News Updates
Subscribe to posts
Come on up for The Rising! It's finally here Springsteen fans, the long awaited first archive release of The Rising tour. This was the very first Springsteen tour that I attended when I was 12 years old so it's nice to finally have this one. Be sure to check out a video sample of "You're Missing" below. The sound, as with these archive release, is phenomenal. Although the setlist won't set the world on fire, we finally have a show from this tour. 
You can purchase the show by clicking here.
Setlist
Born in The U.S.A.
The Rising
Lonesome Day
No Surrender
Prove It All Night
Darlington County
Empty Sky
You're Missing
Waitin' On A Sunny Day
The Promised Land
World's Apart
Badlands
Out In The Street
Mary's Place
My Hometown
Into The Fire
Thunder Road
Bobby Jean
Ramrod
Born To Run
Seven Nights To Rock
My City Of Ruins
Land Of Hope and Dreams
Dancing In The Dark
Glory Days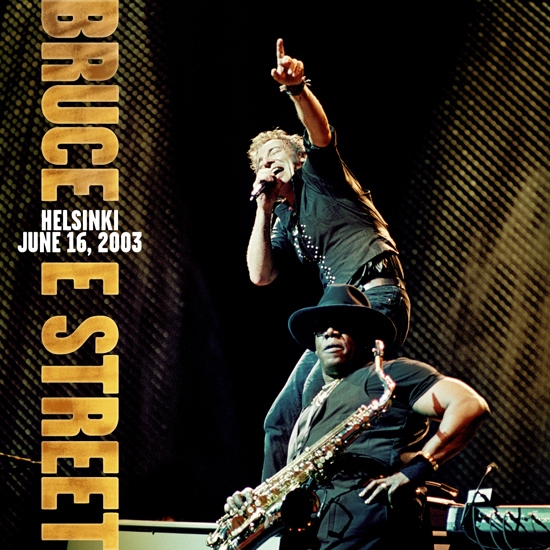 Bruce Springsteen will once again be a headliner for the 12th Stand Up For Heroes benefit. This year's benefit will take place on Monday, November 5 at the Hulu Theater at Madison Square Garden. The Boss typically shows up to play three to four songs with some jokes in-between each song performance. The performance is usually followed by an auction where you can bid on Springsteen's guitar he played that night to having a lasagna dinner made by his mother. Be warned, these auctions go for big bucks so break out those piggy banks. 
Either way, if you're interested in attending, tickets are on sale now at
Ticketmaster
 that range from $256-$5,006. Ticket proceeds go to the Bob Wodruff Foundation which supports veterans, service members, their families and caregivers. The lineup includes: Bruce Springsteen, Jimmy Carr, Eric Church, Jim Gaffigan, Seth Meyers, and Jon Stewart amongst others.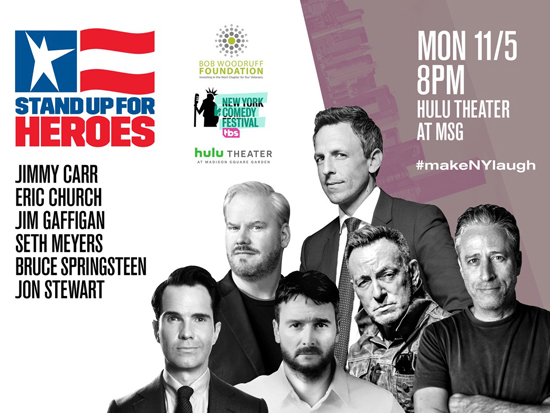 This is a nice surprise! Springsteen's camp released the final Chicago show from September 30, 1999. This is a great release given the great setlist and the sound is absolutely fantastic. Be sure to pick this one up at
live.brucespringsteen.net
! 
Setlist
Take 'Em As They Come
The Ties That Bind
The Promised Land
Adam Raised A Cain
Two Hearts
Atlantic City
Mansion On The Hill
Independence Day
Youngstown
Murder INC
Badlands 
Out In The Street
Tenth Avenue Freeze-Out
Janey Don't You Lose Heart
She's The One
The Ghost Of Tom Joad
New York City Serenade
Light Of Day
Hungry Heart
Bobby Jean
Born To Run
Thunder Road
If I Should Fall Behind
Land Of Hope and Dreams
Ramrod 
It's that time of month again...I know a good amount of people who have been clamoring for a summer '81 show and they now have their wish. Springsteen's London performance from the 1981 tour is the latest monthly archive release.
You can buy this show now by clicking here.
Setlist
Born To Run
Prove It All Night
Out In The Street
Follow That Dream
Darkness On The Edge Of Town
Independence Day
Johnny Bye-Bye
Two Hearts
Who'll Stop The Rain?
The Promised Land
This Land Is Your Land
The River
I Fought The Law
Badlands
Thunder Road
Hungry Heart
You Can Look (But You Better Not Touch)
Cadillac Ranch
Sherry Darling
Jole Blon
Fire
Because The Night
I Wanna Marry You
Point Blank
Candy's Room
Ramrod
Rosalita (Come Out Tonight)
I'm A Rocker
Jungleland
Can't Help Falling in Love
Detroit Medley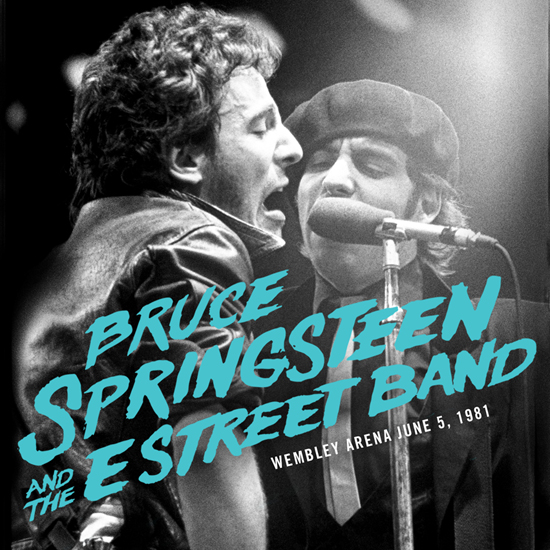 Bruce Springsteen made a surprise appearance at Billy Joel's 100th Madison Square Garden show last night in New York City. He joined in for two songs, Tenth Avenue Freeze-Out and Born To Run. Check out the video (from Dennis Farrell YouTube) below of the surprise performance! 
Photo: Dennis Farrell (YouTube Video)
Didn't get a chance to see Springsteen On Broadway? No worries, Netflix has you covered. On December 15, the last day of Springsteen's historic run, Netflix will allow their users to watch the entire performance. Rumors were going around that there was a secret 3:00 invite only performance on July 17 or 18 so that this could be taped for the Netflix special. Below is the statement from Bruce Springsteen's camp. 
"Springsteen on Broadway" will launch globally on Netflix on December 15, 2018, which is also the final night of Springsteen's completely sold out 236-show run at Jujamcyn's Walter Kerr Theatre on Broadway. "Springsteen on Broadway" is a solo acoustic performance written and performed by Tony Award, Academy Award, and 20-time Grammy Award winner Bruce Springsteen. Based on his worldwide best-selling autobiography 'Born to Run,' "Springsteen on Broadway" is a unique evening with Bruce, his guitar, a piano, and his very personal stories. In addition, it features a special appearance by Patti Scialfa. The evening has received rave reviews in top media here and abroad.
"Springsteen on Broadway" is written by Bruce Springsteen, and directed and produced by Emmy Award-winner Thom Zimny ("Bruce Springsteen and the E Street Band: Live in New York City (2001)"). In addition to Zimny, the film is being produced by the same team that produced "Springsteen on Broadway," including Springsteen manager Jon Landau, Springsteen tour director George Travis, and Landau Management partner Barbara Carr.
Said Ted Sarandos, Chief Content Officer, Netflix: "We are thrilled to bring Bruce Springsteen -- a master storyteller, humanitarian and voice of the everyman -- to Netflix in this historic one man show. This groundbreaking experience defies the boundaries of theater, concerts and film and will give our global audience an intimate look at one of the biggest cultural icons of our time."
Said Springsteen manager, Jon Landau: "The purpose of the film is to bring this incredibly intimate show to Bruce's entire audience intact and complete. In addition to its many other virtues, Netflix has provided for a simultaneous worldwide release which is particularly important for our massive international audience. Ted Sarandos and the entire company's support has been a perfect match for Bruce's personal commitment to the filmed version of 'Springsteen on Broadway.'"
Bruce Springsteen's historic sold-out series of performances of his one man show "Springsteen On Broadway" began previews on October 3, 2017 and officially opened October 12. The show was extended three times after its initial eight-week run, and will close on Broadway on December 15, 2018, bringing the total number of performances to 236."
It has finally happened, Bruce Springsteen has performed his first "encore" on Broadway. Springsteen took his bow at the end of his July 10th show and thanked the crowd for being a fantastic audience. He then explains "you're so good, you guys get the first encore ever." The Boss explained that this was for Patti since she was not able to be in attendance for the show and then began to strum to "This Hard Land." It is important to note that "Long Time Comin'" was in place for the Patti songs and "This Hard Land" was added to the setlist to keep it the same length as the previous shows. Check out the video below, courtesy of Vince Palko. 
Photo: The Boston Globe
We kind of had a hunch that this legendary show would be released today. Considering that the 40th anniversary of this show is tomorrow, it is indeed a fitting release and one that Springsteen fans are for sure going to want to pick up. The infamous Roxy show from 1978 is now available to download from
Springsteen's online store
. 
I'll post below a great summary of the show as reported on
Backstreets.com
:
In short order, Bruce Springsteen's July 7, 1978 show in Los Angeles became known simply by the place where it happened: 
The Roxy
. Select concerts earn that distinction — Sinatra has the Sands, the Grateful Dead have Cornell, the Who have Leeds — but Springsteen's Darkness on the Edge of Town tour has this one, the Agora, Passaic, Atlanta, and Winterland, too.
That's because Springsteen marshalled the power of radio that year. Each of these broadcasts had its own vibe, setlist, and geographic reach. Amplified thousands of times over by tape trading and its bête noire, bootlegging, they helped raise his profile in the U.S. and attract new fans overseas, too. 
Previous Springsteen concerts had gone out over the airwaves — one in 1975 originated from the same Sunset Strip nightclub — but this, the first '78 radio performance, has shock appeal like no other. Taking the stage, Springsteen asked for lights, apologized for a messy ticketing situation, then offered the biggest understatement of his career: we're gonna do some rock 'n' roll for you.
Historian Clinton Heylin wrote that Jon Landau wanted something big for Los Angeles. The timeline afforded plenty of opportunity: Springsteen played the second of two shows in Berkeley on July 1, rocked the Forum on July 5, and wasn't due in Phoenix until July 8. Camped out in Los Angeles, he mixed live recordings from Berkeley and conducted interviews for both radio and television. The seven-minute segment with Channel 7's J.J. Jackson included footage from both sets at the Forum and likely stands as the first TV news interview Springsteen ever granted.
The date at the Roxy came together quickly, though there was enough time for a mention to appear in the Los Angeles Times. With demand for tickets far outstripping supply, an FM broadcast was bound to register as a bona fide event. Paired with the TV interview, the tour's radio debut became a de facto unveiling of the personae and structure that carried Springsteen and the E Street Band at least through Born in the U.S.A., forged in the aftermath of alleged hype, litigation with his first manager, and the death of Elvis Presley.
Buddy Holly was very much alive that summer, in spirit anyway: Springsteen had taken in a showing of The Buddy Holly Story that week, jammed with the actor Gary Busey (who portrayed the young singer in the film), and at some point worked up a spot-on take of "Rave On" with the E Street Band, with which Holly had a hit in 1958. Debuted at the Roxy, it remains one of their more audacious and memorable starts: in an instant, they just took off, making good on the promise of rock 'n' roll, stated or otherwise. By the end of the first set, when Springsteen paired "Racing in the Street" with "Thunder Road," he'd hedged his bet on innocence, telling of a sign he'd seen in the desert West that read, "This is a land of peace, love, justice, and no mercy."
Springsteen and the E Street Band played 25 songs that night, nine of which, like "Rave On," were unreleased or previously unplayed, including the first public airings of "Point Blank" and "Independence Day." The entirety sounded monumental, yet it wasn't out of the ordinary for that tour, whether "Prove It All Night" with the instrumental beginning or a fiery "Adam Raised a Cain." And Springsteen invoked Presley in the second set: when tuning proved too lengthy a proposition, he dispatched the Esquire and summoned the King, delivering a knockout cover of "Heartbreak Hotel."
That was a moment where hard work paid off. Already steeped and practiced in music, Springsteen sounded equally adroit in the art of radio. Between songs, he essentially called on listeners to imagine what it was he was doing. The best example came early, when the band didn't fire at the beginning of "Spirit in the Night." Springsteen turned that miscue ("now wait a minute — see, when I do this… let me do it again… this is what's supposed to happen!") into a make-believe moment for everyone tuned in at home or in the car.
For most fans, today's release supplants tapes made from the KMET signal; Springsteen began the second set by instructing bootleggers to "roll your tapes!" They did just that, yielding titles like Hands Toward the Sky and Roxy Night; in 2013, the file-sharing era upgrade Out There in Radioland, sourced from first-generation quarter-inch reels recorded at 7½ inches-per-second, superseded most if not all cassette captures. Officially, Springsteen himself called on nine selections from this performance for his Live/1975-'85 retrospective, making it the single biggest source for the box set and its attendant B-sides.
This archival version coincides with the 40th anniversary of the broadcast and corrects many flaws, be it the occasional dropout, station ID, or the noise of telephone traffic as the sound traveled from the Roxy to KMET. It restores a notorious Live set edit, which excised the "Drive All Night"/"Sad Eyes" interlude in "Backstreets." Whether that served commercial, technical, or creative demands in 1986, it raised eyebrows and more than a few howls.
Fans invariably will compare The Roxy July 7, 1978 with the Live/1975-'85 set, one that Springsteen and his team of producers spent months assembling. Then, the Roxy material had to conform to a big '80s sound that framed the majority of the LPs' 40 tracks. Today, it only has to sound like we remember it: after 40 years of listening to what came over the air (or to recordings that arrived later) that's a heavy proposition, compounded by time and countless plays back. But if any set of music is up to that challenge, it's this one. - Jonathan Point reporting (Backstreets.com)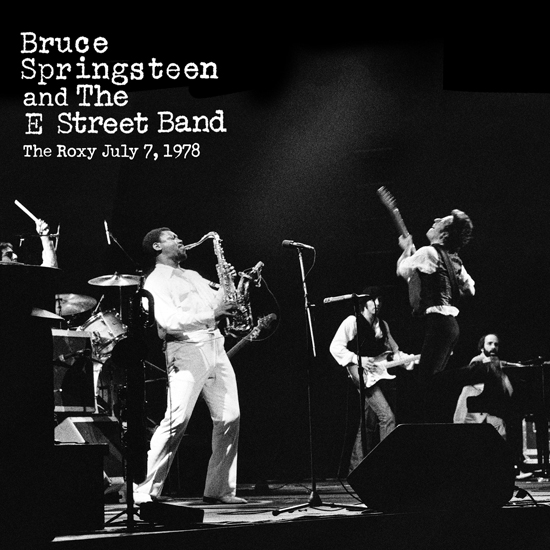 Bruce Springsteen made his first setlist change in over 140 shows last night during his Broadway performance. Springsteen wanted to address the new concerns of illegal immigrant parents and their children being separated at the United States border. Springsteen thus added in "The Ghost Of Tom Joad," which was played during the practice performances leading up to his Walter Kerr residency but was then later replaced by "The Rising" when the show made it to Broadway. 
Springsteen felt the need to comment on this matter as it has blown up nationally here in the United States and has for sure made headlines around the world. He preached to senior officials in the United States government to make a change and then stated: "For 146 shows, I have played pretty much the same set every night. Tonight demands something different." This lead into his performance of "The Ghost Of Tom Joad." 
Photo: Rolling Stone
The Boss has officially reopened the Asbury Lanes building in Asbury Park, NJ. Springsteen joined Danny Clinch's band on stage for a four song setlist that had the place rocking.
We do have two videos on our Twitter page, which you can view by clicking here.
 Be sure to follow us if you haven't done so already. 
We have updated this post to include several videos from last night. Be sure to check them out as Bruce and the band were on fire. Kinda makes you itch for an E Street Band tour, huh?
Rockin' Pneumonia and the Boogie Woogie Flu
I Just Wanna Make Love To You
Down The Road Apiece 
Twist and Shout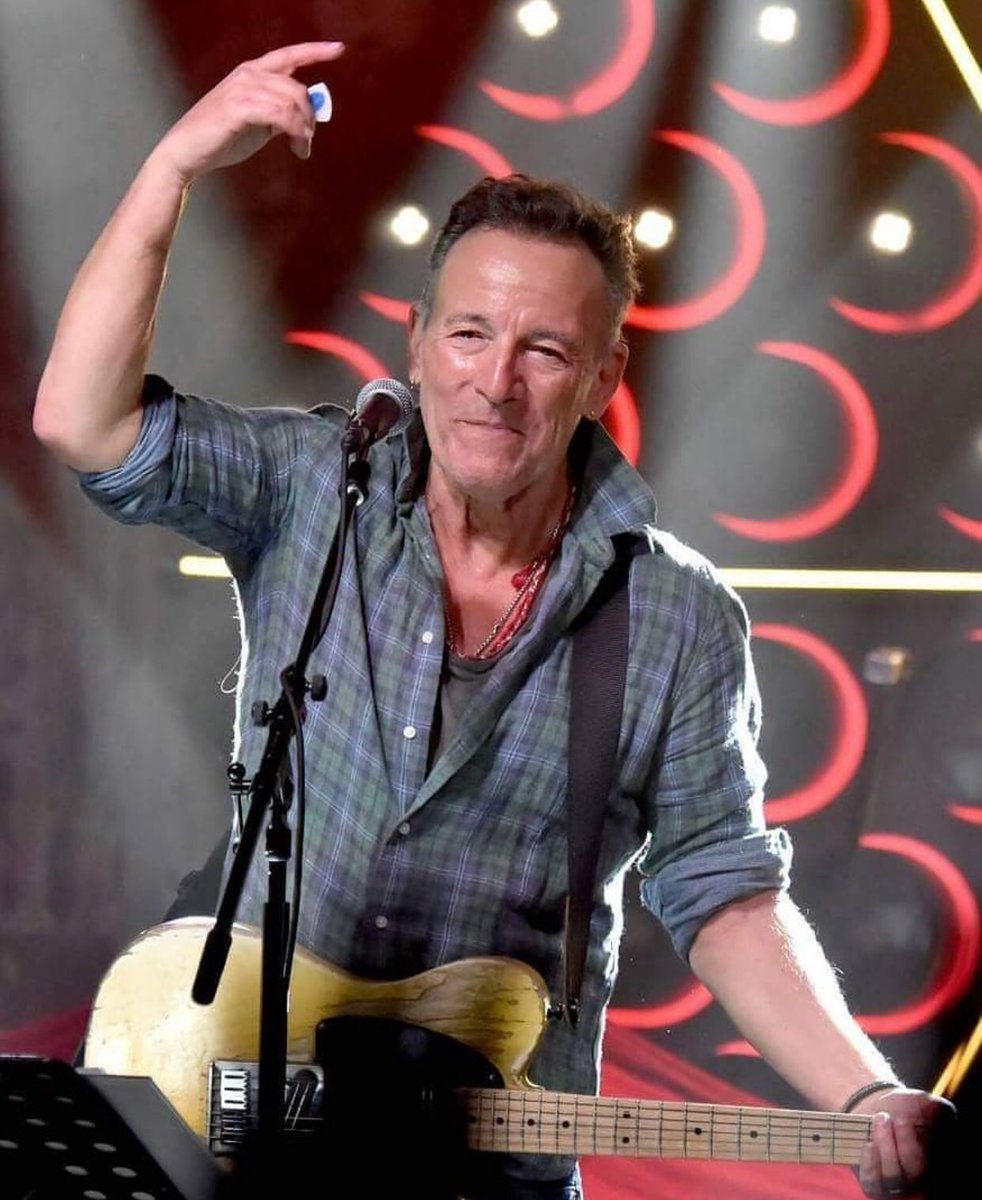 Photo: Unknown Source