Did Bruce Springsteen's official site just leak that there will be a 2014 tour? When you click on live dates a "2014" option appeared on the right hand side of the page. No specific dates or cities were leaked in the process. They could just be running a test to make sure the site is running smoothly or maybe it could be legit. Either way, I wouldn't expect to hear anything about a 2014 tour for a while. Here is the link if you want to see if it is still up and running:
http://brucespringsteen.net/2014?cat=8
I snapped a picture of it and will post below.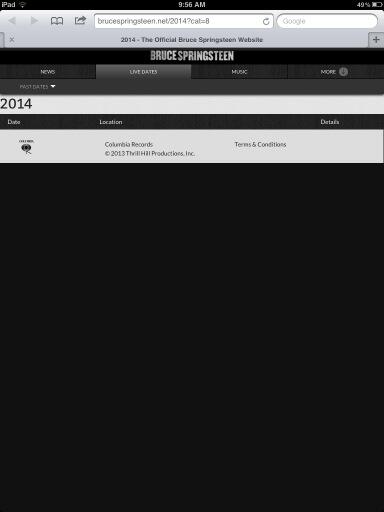 UPDATE:
It looks like you can type in any year at all and it will come up on the tour dates page. Example:
http://
brucespringsteen.net/2100?cat=8
. Looks like this doesn't speculate anything unfortunately.