Below is an article that was posted on backstreets.com, I bolded some of the more important information for you:
COMIN' ON CHANGIN' TIMES
Rollout of live downloads doesn't align with fans' wishlist... yet

A new era is dawning, and it is one that Springsteen fans have dreamed of for decades: official live recordings of full concerts. Friday's press release announced that "on the 2014 tour dates," fans would have the opportunity to purchase and download individual shows, beginning with the January 26 concert in Cape Town, South Africa.
In this first phase covering South Africa, Australia and New Zealand, the method by which concert recordings can be purchased is via a "special USB wristband" onto which a single show can be downloaded "approximately 48 hours after the show." The price point of the wristband, according to Springsteen's official merchandise store, is $40.
First, let us pause to acknowledge that, yet again, Bruce has moved to do something that would have seemed unimaginable 15 or 20 years ago, acknowledging fan yearnings for high-quality live recordings of his shows. It is a MASSIVE step in the right direction and continues an open embrace of what might be called our collective bootleg desires that includes allowing E Street Radio to evolve into the greatest concert jukebox ever.
E Street Radio was a trailblazer in that regard, relying heavily on audience recordings, '70s FM-broadcasts and vintage bootlegs to fill the satellite airwaves with live (and unreleased studio) Springsteen 24/7/365 (Sirius/XM's Grateful Dead channel had a trove of extant archive releases to draw upon).
While the Dead is clearly the forefather of archival releases of multiple concert recordings, dozens of major artists and bands (including Phish, The Who, Pearl Jam, Peter Gabriel, Duran Duran and John Fogerty) have already enabled the release of every show on a tour, some immediately, some after the tour wraps.
Nearly as numerous are the start-up companies that have sought to service the live concert recording market, from early entrants like Instant Live to contemporaries like Seattle-based Lively, which delivers concert recordings to a smartphone app. The category was pioneered by Nugs.net, which began as a fan exchange of live recordings by Phish and Grateful Dead before evolving into what is arguably the most robust concert download platform, servicing both of those bands, along with Pearl Jam, Metallica, Red Hot Chili Peppers and the Black Crowes among many others.

The Springsteen download wristbands are modeled on those offered by Matchbox Twenty (frontman Rob Thomas is credited with planting the seed with Bruce to do live downloads in this fashion). Matchbox Twenty's program is run by Austin-based Music One Live, and Friday's announcement sent fans to social media frustrated that Springsteen appeared to be following an identical model, including pricing.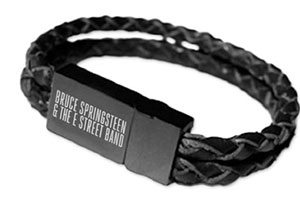 While the wristband approach might strike people as clunky, whoever developed the idea had the concert merchandise table in mind. Selling someone a card with a download code on it alongside a t-shirt is not only unsexy, it lacks a sense of implicit value in what you're buying. The wristband has a practical appeal, too, when sold at a show, in that it won't be easily lost if you wear it, it is a souvenir in and of itself and it is fashionable in a circa-Lucky Town sort of way.
A source close to the tour confirms this was indeed the thinking, with those fans attending in South Africa, New Zealand and Australia the primary target, not the die-hard collector. "This is meant for the other fan — the one who might only see one show on the tour or ever."
The source went on to explain that they never intended this as the way super fans were supposed to collect shows: "We are not expecting them to go to the online store and buy a boatload of wristbands!" Online store purchase of wristbands outside of the show is there more to support those who attended, but didn't buy at the time. The wristband approach, the source assures us, is just the start. Right now it is a piece of merchandise, not the end-all, be-all concert download solution.
Of course, one of the major reasons for Springsteen's devoted concert-going fanbase — and why all those audience recordings are airing on E Street Radio — is that every show is different, materially different. If a review of last year's MB20 setlists is any indication, each shared 95% of the songs of the show that came before it and the show that came after it. Springsteen's set famously changes every night, and it is moments like "New York City Serenade" in Rome last year that are the magic in the night: You never know what you might hear at any given show. Regardless of whether we were in attendance that night, we all wanted to hear that sublime performance.
And that's why Grateful Dead, Pearl Jam and Springsteen live recordings have always been so desired and so collectible. Add to that YouTube (which spans the globe) and E Street Radio, and even average fans have become live recording experts. While Springsteen isn't exactly late to the official concert download space, a big portion of his audience that's likely to buy these recordings is pretty sophisticated at this point, thanks in part to other artists working out the kinks before him.
Pearl Jam started out with physical CDs then MP3s before quickly acknowledging that the fanbase wanted higher quality downloadable formats like FLAC, which have been offered now for several years. Pearl Jam 2013 shows are currently offered at $9.99 for MP3, $14.99 for FLAC, and $19.99 for 24-96 high-resolution FLAC files. It is hard not to feel that what MB20 and now Springsteen are offering is a bit overpriced and under-powered in terms of audio fidelity, but we're assured this at-the-venue merch item is step one down a longer path.
Of course, with ardent Springsteen fans, when the door opens a crack, they are quick to try to push it wide open.
That the first show in the Springsteen program is taking place in South Africa underscores the notion that concert downloads are bigger than a venue souvenir. Surely thousands of fans outside of South Africa are going to want to hear the first night of the 2014 tour, and the idea that they would need to first receive a flash drive on a wristband in order to download it is impractical. As noted above, the camp acknowledges this.
It is no surprise that the expectations of Bruce's core fanbase are more aligned with those of Pearl Jam and Phish than that of Matchbox 20. They will want to buy multiple shows. They will want them in higher quality than MP3s. And they really don't need a wristband when they are ordering from a computer anyway. At the venue, as a piece of merch, is where the wristbands make some sense.
"My hope is that they opt to make the audio tracks available in various formats at a reasonable price," says a second source close to the band. Our tour source goes one step further: "In the future we DO want to address what the super fans are looking for — reasonably priced downloads or CDs of live shows — past and present. The wristband is not a substitute for that."
While immediate fan reaction to the otherwise incredible news of concert downloads might ring of "No good deed goes unpunished," one hopes it isn't taken that way, as something as well-intended and long-desired as official live recordings, both past and present, deserves to be done right. Let's hope the long view on the subject — both from fans and the Springsteen camp — recognizes that getting them right will be an evolution.
- January 18, 2014 - Erik Flannigan reporting