News Updates
Subscribe to posts
Annnnnnnd we're back with another Bruce Springsteen bracket tournament. No actual March Madness this year? No problem. This year's focus...studio songs in the Reunion Era (2000 and beyond). Be sure to visit our twitter page (@blogitallnight) and our instagram page (@springsteen_blogitallnight) to vote for your favorite songs and see them advance. There will be polls on both our twitter and instagram pages! In order to be fair and not include any bias, I had the computer randomly generate the seeds for the matchups. Here's to another great year and to see what song comes out on top. You can follow our bracket by clicking the link below.
And while we're mostly quarantined and working from home...stay safe out there everyone! 
Walk like archive release day. This month's archive release takes us back down to the Tunnel of Love Express Tour. This release marks the archive debut of "Walk Like A Man" (see video below). The 30 song setlist features many of the Tunnel of Love tour classics but also includes Elvis Presleys' "Love Me Tender" and Bruce's smoking medley, "Detroit Medley." A cool feature of this archive release is that it also includes a soundcheck version of "Reason To Believe" in addition to the show performed in Detroit. Check out the setlist below and
click here to purchase the show
. 
Setlist
Tunnel Of Love
Be True
Adam Raised A Cain
Two Faces
All That Heaven Will Allow
Seeds
Roulette
Cover Me
Brilliant Disguise
Spare Parts
War
Born In The U.S.A.
Tougher Than The Rest
Ain't Got You
She's The One
You Can Look (But You Better Not Touch)
I'm A Coward
I'm On Fire
One Step Up
Part Man, Part Monkey
Walk Like A Man
Dancing In The Dark
Light of Day
Born To Run
Hungry Heart
Glory Days
Love Me Tender
Rosalita
Detroit Medley 
Raise Your Hand
Reason To Believe (Soundcheck Version) 
The Springsteen archive series is back! After a one month hiatus to let the Winterland shows be absorbed, Springsteen's camp is taking us back to the Working On A Dream tour. This time, the tour showcases an earlier show which has a larger showcasing of the songs off Springsteen's new album at the time. At first glance, some fans may be underwhelmed with this release but this is the first real professionally mixed show that is available for download from this era of E Street and we welcome it with open arms. Who doesn't want a perfectly mixed "Outlaw Pete" after all? The show however, does feature a one and only E Street Band performance of "Expressway To Your Heart" thanks to an audience request. 
Setlist
Badlands
No Surrender
Outlaw Pete
She's The One
Working On A Dream
Seeds
Johnny 99
The Ghost Of Tom Joad
Raise Your Hand
Expressway To Your Heart
For You
Rendezvous
Night
Waiting On A Sunny Day
The Promised Land
The Wrestler
Kingdom Of Days
Radio Nowhere
Lonesome Day
The Rising
Born To Run
*******
Hard Times (Come Again No More)
Jungleland
Land Of Hope and Dreams
American Land
Dancing in the Dark
Rosalita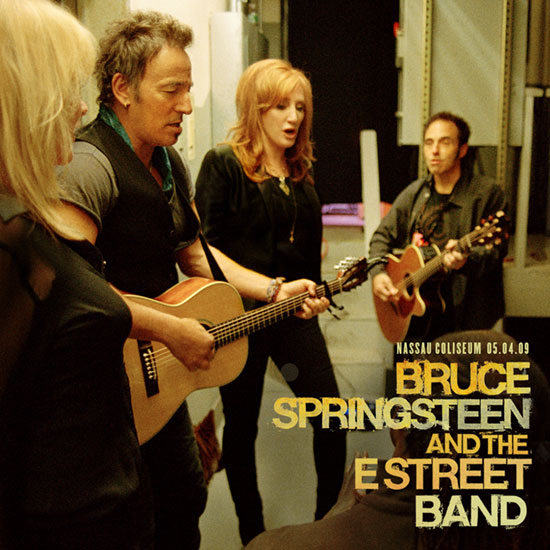 It was a snowy and then rainy night in Asbury Park, NJ last night but there was that certain magic in the air. Bruce Springsteen was getting ready to blow the roof off of the Paramount Theater along with all the other Light Of Day Foundation musicians. This marks the first time Springsteen has surprised the crowd Paramount Theater crowd since 2015. This was the 20 year anniversary for the Light Of Day foundation and I think it's clear that it was an important event for The Boss. Springsteen, just the night before, was in Florida doing a fundraiser and caught a flight home to a snowy New Jersey to be here for the event and to support Bob Benjamin. Yet again, showing how much Bruce cares for the event. 
Getting onto the performance, Springsteen was ripping and shredding guitar solos and of course taking over lead vocals for his own songs with Joe Grushecky. Bruce was looking right at home and was feeding off the crowd's energy after an invigorating version of "The Promised Land." Springsteen and the House Rockers continued to rip through Grushecky's catalogs with songs that Bruce has appeared on such as "Never Be Enough Time." I can go on and on about the performance but I'll let the videos do the talking (and that's mainly what you're here for). Check out the videos below! For the record, Pink Cadillac was a highlight and Darkness simply always kicks ass at these shows. 
Photo: NJ.com
Just Around the Corner ….
        George Theiss                                          Robert "Butch" Pielka
The Weeklings
ASBURY ANGELS INDUCTION: THE WEEKLINGS ALBUM RELEASE WITH JOHN EDDIE, HOLLIS BROWN and JAMES MADDOCK BAND
Featuring: THE ANDERSON COUNCIL • BOBBY MAHONEY & THE SEVENTH SON with Hans Ludviggson, Miss Emily,Gary Tripps, Peter Hogklint
ROBERT 'BUTCH' PIELKA (Stone Pony co-founder), GEORGE THEISS (Springsteen early bandmate in The Castiles), HENRY & MINNIE LOPEZ (Cuba's Nightclub owners), AL MUZER (Music Journalist) TO BE REMEMBERED AND CELEBRATED IN NEWEST CLASS OF ASBURY ANGELS
Friday, Jan. 17, 2020
913 Ocean Avenue, Asbury Park, NJ 07712
Doors 7 p.m. / Tickets $25-$30
TICKETS ON SALE NOW!
"This mammoth festival around Asbury Park is a killer time." - NJ.com
Watch the Light of Day 2020 Promotional Video
ASBURY PARK, NJ (Jan. 10, 2019) – Stone Pony co-founder Robert "Butch" Pielka, early Springsteen bandmate George Theiss, Cuba's Nightclub owners Henry and Minnie Lopez and music journalist Al Muzer comprise tops this year's class of Asbury Angels inductees announced annually at Light of Day WinterFest, the 10-day festival which this weekend kicks off its 20th Anniversary year of raising money and awareness through the awesome power of music in order to defeat Parkinson's Disease and the Parkinsonisms, ALS and PSP, in our lifetime. 
The lives of the newest Asbury Angels will be remembered and celebrated at the annual Asbury Angels Induction show: The Weeklings Album Release with John Eddie, Hollis Brown, the James Maddock Band and more special guests, Friday, Jan. 17 at the Legendary Stone Pony, 913 Ocean Ave., in Asbury Park, the final weekend of LIGHT OF DAY WINTERFEST 2020: THE 20th ANNIVERSARY, with a 20th anniversary goal of pushing its two-decade total past $6 million in its ongoing battle against Parkinson's disease.
Also performing will be The Anderson Council and Bobby Mahoney & The Seventh Son with acoustic side stage sets by Hans Ludviggson, Miss Emily, Gary Tripps, and Peter Hogklint. Doors open 7 p.m. Tickets $25-$30 at www.stoneponyonline.com, Ticketmaster, and at (732) 502-0600.
The new inductees were selected by a blue-ribbon panel of music industry professionals and historians. Criteria used included significant contribution to the creative music community and impact on that community; and the length of time spent on the Asbury Park music scene. Those eligible for induction this year and in future years include musicians, songwriters, disc jockeys, writers, technical support staff and club and venue owners. They must have been deceased at least one year.
The inductees will be recognized in the upcoming year with plaques on the city's "Boardwalk of Fame" by the Asbury Angels Project, which seeks to memorialize those who have made important contributions to the city's musical legacy. There are currently more than 50 plaques along the Boardwalk. This will be the eighth Asbury Angels class. 
With his business partner, Jack Roig, Pielka opened the doors of the Pony, formerly the Magic Touch, in February of 1974, giving birth to a world-renowned mecca for fans of the Sound of Asbury Park.In his obituary, E Street Band drummer Max Weinberg told the Asbury Park Press: "Butch was a wonderful, wonderful person, he and his partner created that whole scene and they were instrumental in resurrecting what had been a very vibrant show band atmosphere in Asbury Park from the '50s and '60s. It certainly helped that he had a great house band with Southside Johnny and the Asbury Jukes and Bruce (Springsteen) would show up all the time. It became known as the house that Bruce built and it was really fun. It was like Cheers — Butch and Jack created that vibe."
Theiss, the man who co-wrote the first songs Bruce Springsteen ever recorded ( "That's What You Get" and "Baby I"), was a veteran of several  Asbury Park bands in the '70s and '80s, including Rusty Chain, Doo-Dah, the Cahoots and the George Theiss Band, but his time with Springsteen as lead singer of their Freehold teenage band the Castiles in the '60s  secured his legacy. "George was the best vocalist we had," wrote Springsteen in his Born to Run autobiography. '"He had a real voice and charisma and did the job well. I was considered toxic in front of a microphone, my voice the butt of many of [manager Tex Vinyard's] jokes, and years later, after selling millions of records, I would visit Tex and he would take grand pleasure in sneering at me, 'You still can't sing. George is the singer.' " 
Henry Lopez, and his wife, Minnie, opened Cuba's Nightclub (aka Cuba's Spanish Tavern & Nightclub) on Springwood Avenue in 1934, a few doors down from their candy/newspaper store, also called Cuba's. Performers include Billie Holiday, Ike and Tina Turner, Little Richard, and the Four Tops.  Known for its Broadway-type shows with showgirls and comedians as well, Cuba's was a glamorous nightspot that provided the same level of African American performers, especially, that one might otherwise need to travel to New York to see.
Before pursuing his passion as a music journalist, Al Muzer was a publicist, photojournalist, and manager of The Fast Lane in Asbury Park. He wrote a weekly column of music reviews called "Mr. Musichead" for The Ocean County Review in Seaside Heights. The column was later published in the now defunct Music Paper and his concert reviews regularly appeared in Musicians' Exchange, The Aquarian Weekly and East Coast Rocker. He received several Asbury Music Awards, recognizing him as Top Journalist in Support of Live Music. He also won the Living Legend Award.
The Asbury Park foursome The Weeklings is a highly impressive rock 'n' roll ensemble that is at once classic and at the same time thoroughly up to the moment.  The Weeklings are releasing their new studio album, 3 on January 17 – the same day as their Light of Day celebration at the Stone Pony ― on Marty Scott's legendary indie label, JEM Records.  Check out the video for the opening track, "I Want You Again", with its indelible melodies, striking harmonies and 60's era jangling guitars - watch + share via YouTube.
Tickets for most LIGHT OF DAY WINTERFEST 2020: THE 20TH ANNIVERSARY events are on sale through www.ticketmaster.com,Ticketmaster charge-by-phone at 1-800-745-3000, and all Ticketmaster outlets. Tickets for all events at House of Independents and the Saint are available through TicketWeb and at the venues' websites. Tickets for McLoone's Supper Club events are available at www.timmcloonessupperclub.com. 
A wide variety of combination ticket packages – as well as single tickets to each show – are available. Additional ticket info can be found at the official Light of Day website: www.lightofday.org and Facebook page: www.facebook.com/LOD2000.
Complete ticket and additional information for all LIGHT OF DAY WINTERFEST 2017 events at www.lightofday.org and on Facebook.
Here is the updated schedule with the latest show information for LIGHT OF DAY WINTERFEST 2020: THE 20TH ANNIVERSARY is below. Shows will be held in Asbury Park, NJ, unless otherwise noted.
Friday, JAN 10
LOD NORTH JERSEY - Willie Nile, James Maddock, The Weeklings' Glen Burtnik (Lefty) & Bob Burger (Zeek), Joe D'Urso, Jill Hennessy, Danielia Cotton, Williams Honor, Emily Grove, Rick Winowski - Outpost in the Burbs, Montclair, NJ, 8pm, $35-$75.
Saturday, JAN 11
LOD PHILADELPHIA - Willie Nile, Joe Grushecky & The Houserockers, James Maddock, The Weeklings, Joe D'Urso & Stone Caravan – City Winery, Philadelphia, Pa., Doors 5 p.m.; Show 7 p.m.; $25-$50
Sunday, JAN 12
COVER ME: BEST IN NJ COVER & TRIBUTE BANDS – Almost U2, Moroccan Sheepherders, Bob Burger & Friends Performing the Music of Elvis Costello, Experience Janis featuring CC Coletti, Jobonanno's Spirit of Asbury Review, Carl Gentry Band, Kyle Ward & Aaron Manzo, Stella Mrowicki, DJ Lee Mrowicki - Stone Pony, All Ages, Doors 1pm; Show 1:30 p.m., $17 advance/$22 day of show.
LOD ROCKLAND – Joe D'Urso, Adam Falcon, Guy Davis, Alice Leon, plus Arlon Bennett, Caleb Caming, Art Leinoff from Over the Line, Tim O'Donohue, Dave Frye - Penguin Rep Theatre, Stony Point, NY, 3 pm, $25
Wednesday, JAN 15
LOD NEW YORK CITY – Willie Nile, Hollis Brown, The Weeklings, Joe D'Urso & Stone Caravan, Jeff Slate - The Cutting Room, NYC, Doors 6 p.m.; Show 6:45 p.m., $45 general admission; $75 VIP.
Thursday, JAN 16
WINTERFEST 2020 KICK-OFF – Marc Ribler & Friends 50 Licks: The Music of the Rolling Stones; Willie Nile; Williams Honor; Colossal Street Jam, Vendetta Rose – House of Independents, Doors 6 p.m.; Show 6:30 p.m. $22.50 adv/$30 day of show. 
FIRST NOTE – Foes of Fern, Smooch, Natalie Farrell, New Narratives, 8 Break Plans, more - The Saint, 18+, Doors 7 p.m. $8 adv/$12 dos.
SANDY MACK's WONDER JAM – Dogs in a Pile, Waiting on Mongo, Secret Sound, Cosmic Jerry Band, Fungkshui, Nicole Possin & Pete Tonti, Deseree Spinks & Jimmy Farkas, Strumberry Pie, Lindsey DeSena & Zack Loria, ResXUnplugged - Wonder Bar, 21+, 7pm, $15.
MONMOUTH UNIVERSITY'S BLUE HAWK RECORDS PRESENTS – Vini Lopez, Dan Amato & The Sentimental Gentlemen, Bryan & Alexa, Jarod Clemons, Max & Francesca, Blue Hawk Records Band, Vianna Rose (Lakehouse), Kelli Faith, Dillon Schindler, more - Langosta Lounge, All-Ages, 7pm, FREE ADMISSION
Friday, JAN 17
ASBURY ANGELS INDUCTION: THE WEEKLINGS ALBUM RELEASE WITH JOHN EDDIE AND HOLLIS BROWN – The Weeklings, John Eddie, Hollis Brown, James Maddock Band, The Anderson Council, Bobby Mahoney & The Seventh Son, plus Hans Ludviggson, Miss Emily, Gary Tripps, Peter Hogklint - Stone Pony, Fri., All Ages/21 to Drink, Doors 7pm, $25 advance/$30 day of show  + fees.
REMEMBER JONES PERFORMS THE WHO'S "TOMMY"- Remember Jones and a cast of very special guests perform a concert version of the 24 songs on the double album done in the uniquely theatrical Remember Jones style. 6:30 p.m., $40.
FRIDAY NIGHT LIVE: DRAMARAMA & THE BONGOS with The Grip Weeds - House of Independents, All Ages/21 to Drink; Doors 6:30 p.m.; Show 7 p.m. $22.50 adv/$30 dos
SONGWRITERS AT THE BERKELEY – Peter Elkas, Jackson Pines, Dave Vargo, Joe Petillo, JerzyJung, Jenny Cat, more - Berkeley Hotel Blue Bar, Doors 7 p.m.; FREE ADMISSION.
ACOUSTIC CAROUSEL WITH PETER SCHERER OF MR. REALITY – Gregory Schwartz, Pete Mancini, Michael Brett, Cranston Dean, Peter Scherer & Rob Tanico, Marc Muller, Williams Honor, Paul Whistler, Dentist, Ryan Gregg, Mark Sunshine, Keith Roth, Ray Anderson, Rick Barth, Cara Smith, Chris Mardini - Langosta Lounge, 21+, 8pm, FREE ADMISSION
SILVERBALL NIGHT OF COVERS – Kenny K and the Way, Kevin Mulvany & Friends, Joe D'Urso & Stone Caravan, White Lightning - Silverball Museum, 7 p.m., $10-$15.
ROCK HEAVY – Pierced, The J.A.C.K.S., Tonal Crush, Blood Red Roses, more. The Saint, Fri.,18+, Doors 7pm, $8adv/$12dos
NEIL BERG'S 100 YEARS OF BROADWAY - McLoone's Supper Club, All Ages, Doors/Dinner 6pm/ Show 8pm, $25-$45.
FRIDAY AT THE CLUB – Stringbean & The Boardwalk Social Club - Asbury Yacht Club, Showtime 9pm, FREE ADMISSION
SOUNDBOOTH – Oh, Elis, Brother Andrew, Low Light – Asbury Hotel, 9 p.m., FREE ADMISSION
Saturday, JAN 18
BOB'S BIRTHDAY BASH – Paramount Theater, Sat, All Ages, 6pm, $39-$399
ALL TOGETHER NOW: THE BEATLES ACOUSTIC – Bob Burger (Host), Quincy Mumford, Richard Barone, Ben Arnold, Joe D's Acoustic Excursion - McLoone's Supper Club, All Ages, Doors Noon; Show 1 p.m. $10 
WOMEN OF SONG – Mary McCrink, Christine Martucci, Strumberry Pie, Lisa Bouchelle, Jo Wymer, Pam McCoy - The Saint, Lunch/Doors Noon; Show 1 p.m., $10 door (+$2 surcharge)
DOWNTOWN – ASBURY UNDERGROUND, curated by Pat Schiavino and Asbury Underground. Noon – 7PM Over 20 venues! FREE ADMISSION
ASBURY BLUES – Billy Walton Band, Joe Bonanno & The Godsons of Soul, The Wonderful Winos, Norman Seldin, RB3, JT Bowen & The Mighty Kings of Soul, Poppa John Bug, Sharon Lasher, Chuck Lambert, Pam McCoy, Miss Emily, Mary McCrink, James Dalton - Wonder Bar, 21+, Noon, $15 + fees
FULL TILT BOOGIE – Billy Hector Band, Adam Ezra, Christine Martucci, Peter V Blues Train, plus Rick Winowski, Gary Wright, Michael Askin, Sandy Mack & Mike Flynn - Wonder Bar, Sat., 21+, 6:55 pm, $15 adv/$20 dos.
ROCK HEAVY – "That's How They Get Ya," The Morgan Freemason, Tedesco's Bittersweet 8-Ball, Lou Montasano & Jeremy Korpas, more - The Saint, Sat., 18+, 7:30pm, $8adv/ $12dos
BLUE BAR – Tom Kanach Band, Jon Caspi and First Gun, Mike Rocket Band – Berkeley Hotel, 2 p.m., FREE ADMISSION.
SATURDAY AT THE CLUB – Cranston Dean, Frank Lombardi - Asbury Yacht Club, Showtime 9 p.m., FREE ADMISSION
LANGOSTA LIVE – Mamadrama, Bottled Blonde, Spinning Bad – Langosta Lounge, 9 p.m., 21+, FREE ADMISSION.
SOUNDBOOTH – Cat London Band, Catherine Quintana, Moonwater - Asbury Hotel, 9 p.m., FREE ADMISSION
HOUSE OF INDEPENDENTS – Doors 7 pm; Show 7:30 pm. $18 advance/$25 day of show.
CAFÉ ARTISTE – Jersey Shore Arts Center, Ocean Grove, 1 p.m., $10 at door only. 
Sunday, JAN 19
REMEMBERING HARRY CHAPIN - A live concert featuring the song and stories of Harry Chapin, performed by John McMenamin and featuring special guests Howard Fields and John Wallace of the Harry Chapin Band, and others – Paramount Theater, 1 p.m., $22-$52
LOD 20 AT THE LANES: BEST OF THE EAGLES – with special guests Miss Emily, The Bob Polding Band, plus special "After-Set" - Asbury Lanes, Doors Noon; Show 12:30 pm., $20 advance/$25 day of show. Bowling lanes will be open throughout the show!
KID'S ROCK - Indigo Mane, Lauren Gil, Sunsets From Jupiter, Jake Ryan, So Far Under, School of Rock Red Bank, The Nobodies, Rock'n Music Academy, Rockit (performing The Beatles: Solo Years), plus Ham by thePound, Ezra Caspi, Ross Owen, Julia Fleming, Evan Rotella, Double A, Jake Thistle, Matt Levine - Stone Pony, Sun., All Ages, Doors Noon; Show 12:15 p.m., $15 advance + fees at door or online.
SONGWRITERS BY THE SEA BOARDWALK CRAWL #1 – Adam Ezra, Mary McCrink, Taylor Tote, Hans Ludwigsson, plus Peter Hogklint, Matt Jaffe, Kent Nicholson, Arlon Bennett - Watermark, Sun., All Ages, Doors 11:30 a.m.; Show 12:15 p.m., $15 at door only
SONGWRITERS BY THE SEA BOARDWALK CRAWL #2 – Pat Guadagno, Brian Dunne, Bruce Tunkel, Lisa Bouchelle, Coletti & Krizan, Tess Cameron, Scott & Kyle, Stella Mrowicki - Langosta Lounge, Sun., All Ages, 3pm, $15 at door only.
SONGWRITERS BY THE SEA BOARDWALK CRAWL #3 – Upstairs: Joe Grushecky, Willie Nile, Joe Rapolla, Peter Elkas, Danielia Cotton, Anthony Krizan. Downstairs: LOD Europe with Joe D'Urso, Miss Emily, Vini Lopez, James Maddock, Quincy Mumford, Matt Jaffe - McLoone's Supper Club, Sun., All Ages, 6:15 pm, $20.
MUSICIANS ON A MISSION – Tommy B & The Deep Sea, Jake Tavil & Indigo Soul, Calabrese/Swerlin Band, Connor Bracken and the Mother Leeds Band, We're Ghosts Now - The Saint, Sun., 18+, 12:15 p.m., $10 door (+ plus surcharge)
BLUE BAR – Xol Azul, Scott Wolfson & Other Heroes, Somewhat Relative, Virago – Berkeley Hotel, Noon, FREE ADMISSION.
ASBURY MUSIC HALL – Asbury Hotel, 2 pm, FREE ADMISSION.
LAST NOTE – Featuring Rock Groove, with Inflatable Head, Shady Street Show Band, Ian Gray Presents!, more - The Saint, 18+, 7:30pm, $8adv/$12dos
SPRINGSTEEN ON SUNDAY/107.1 THE BOSS LIVE BROADCAST - Longtime LOD concert host Tom Cunningham hosts his popular Springsteen program on 107.1 THE BOSS, live from the Anchor's Bend restaurant, in the Convention Hall/Paramount Theatre complex, with very special guests, for the 4th consecutive year. 9 am-11 a.m. FREE ADMISSION.
Monday, JAN 20
GOODBYE BRUNCH, McLoone's Supper Club, All Ages, 10a-2:30p.
Saturday JAN 25
LOD AFTERFEST: STEVE FORBERT & THE NEW RENDITIONS – House of Independents, Doors 2 p.m.; Show 2:50 p.m., $25/$60 VIP.
The Light of Day Foundation has partnered this year with The Berkeley Oceanfront Hotel as its official hotel sponsor for LIGHT OF DAY WINTERFEST and is offering a special rate to all festival patrons from Jan. 13-20, 2020. Rooms are expected to go quickly! Reserve NOW through this special link: https://book.berkeleyhotelnj.com/booking/en/group-promo/LODFEST/BER/Berkeley-Oceanfront-Hotel. 
The Berkeley Oceanfront Hotel has remained a trademark presence within the Asbury Park seaside community for over 100 years. Nestled along the Jersey Shore, just a few steps from the famous Asbury Park boardwalk, the Atlantic Ocean provides gorgeous panoramic views and the ultimate setting for your relaxing getaway. The Berkeley's coveted beachfront location has convenient proximity to an array of local hotspots, and easily accessible to all LIGHT OF DAY WINTERFEST destinations from Philadelphia to New York.
ABOUT THE LIGHT OF DAY FOUNDATION
The Light of Day Foundation, Inc., utilizes the awesome power of music to raise money and awareness in its continuing battle to defeat Parkinson's disease and related neuro-degenerative diseases, specifically Progressive Supranuclear Palsy (PSP) and Amyotrophic Lateral Sclerosis (ALS), within our lifetime. The Foundation's mission is to fund research into possible cures, improved treatments and support for patients who suffer from those diseases, their families and their caregivers to help improve their quality of life. Gifts to the Light of Day Foundation, Inc. are tax-deductible to the full extent of the Internal Revenue Code. The Light of Day Foundation, Inc. is designated by the IRS as a not-for-profit 501(c) (3) organization. The Light of Day Foundation, Inc.'s Federal ID # is 20-1560386. Light of Day - the concerts and the organization - grew from a birthday party and fund-raiser held in 1998 at the Downtown Cafe in Red Bank to celebrate the 40th birthday of artist manager and music industry veteran Bob Benjamin, who was diagnosed with Parkinson's disease in 1996.
Bruce Springsteen will be re-issuing multiple studio and live albums on vinyl next month. On February 21, five Springsteen albums will be released on album for the first time in over a decade. Many of these albums are near impossible to find on vinyl today and if you do happen to come across one, it will cost you a pretty penny with some going for over $300+. The albums being released next month are:
The Rising (2002) will be reissued on 2LP vinyl for the first time in over 15 years. The album offered messages of healing and redemption in the wake of the devastating attacks on 9/11, and saw The E Street Band re-unite in the studio for the first time in nearly a decade. 
Devils & Dust (2005) comes to vinyl for the first time since its original release on the format. The 2LP set remains one of Springsteen's starkest studio albums, recalling "The Ghost of Tom Joad" a decade earlier. 
Live In New York City (2001) arrives on 3LPs for the first time since its original pressing. The set chronicles Bruce Springsteen and The E Street Band's much-anticipated reunion tour, recorded over two nights at Madison Square Garden in the summer of 2000.
Live In Dublin (2007) will be released on vinyl for the first time ever, a 2LP snapshot of Bruce Springsteen's work with The Sessions Band, including classic folk songs popularized by Pete Seeger and radically rearranged versions of Bruce Springsteen favorites. 
18 Tracks (1999) is coming to vinyl for the first time in over 20 years. The 2LP set features rarities like the original "Born In The U.S.A." demo and exclusive songs "Trouble River," a 1999 re-recording of "The Promise" and Springsteen's original version of "The Fever," made famous by Southside Johnny and The Asbury Jukes.
Bruce Springsteen hit the stage yet again last night in New York City. This time, Bruce was billed as one of the premier performers for the Rainforest Fund's 30th anniversary concert. Other artists that performed included John Mellencamp (who did a couple songs with Bruce), Shaggy, Sting, James Taylor, Ricky Martin, and a handful of others. Springsteen was on stage for four songs last night. Check out the videos below!
Songs Springsteen Performed
Pink Houses (John Mellencamp Song...Performed w/ John Mellencamp)
Glory Days (w/ John Mellencamp)
Dancing In The Dark
Don't Stop Believing (All Musicians On Stage)
Photo: USAToday
Looking to add an epic Springsteen addition to your collection? Charitybuzz may have what you're looking for. Currently up for auction is a reissued 1952 fender telecaster that was donated by The Boss himself. All proceeds benefit WhyHunger that fights hunger and poverty. 
The Boss headlined a private event last night in Asbury Park, NJ's iconic Stone Pony bar. Springsteen performed many of his classic hits for the event that benefit Boston College, which his son previously attended. Chris Jordan of the Asbury Park Press reported that less than 500 were in attendance. E Street Band member and drummer, Max Weinberg, reportedly joined the band for about half the setlist. Check out the setlist some of the videos from the event below! 
Setlist
634-5789 
Seven Nights To Rock
Darlington County
Spirit In The Night
Growin' Up
Because The Night
Two Hearts
Cadillac Ranch
Rendezvous
Boy In New York City
From Small Things (Big Things One Day Come)
I'm On Fire
Waitin' On A Sunny Day
Talk To Me
4th of July, Asbury Park (Sandy)
Tenth Avenue Freeze-Out
Dancing In The Dark
Born To Run
Rosalita
Detroit Medley 
Twist And Shout
Thunder Road (Solo, Guitar)
Marking his first return since the 1970's, Bruce Springsteen comes back to where it all started...Asbury Park, NJ. Here is the official Nugs essay for the show by Erik Flannigan. 
Three decades on, one can underestimate the significance of the Ghost of Tom Joad tour. Fans had been talking about the prospect of a solo acoustic tour since Nebraska, a dream reinforced by the Bridge School appearance in 1986 and the sublime sets Springsteen turned in at the Christic Institute concerts in 1990. (The Bridge and Christic shows are available for download as part of the live archive series.) But it would be another five years for Bruce to go it alone for real, starting his first solo tour in December 1995 and continuing well into 1997.
Not only was he playing on sans band, but he was performing in theaters the size of which he hadn't seen since the Darkness tour. The period is also notable for the debuts of several original songs (e.g. "It's the Little Things That Count" and "There Will Never Be Any Other for Me But You") in a set that grew more exploratory in assaying Bruce's back catalog as the tour carried on.
Then came a series of remarkable hometown bookings. In November 1996, Bruce played his old high school, St. Rose of Lima, in Freehold, NJ (also available in the live download series). Later that month, a three-show stand at the Paramount Theatre in Asbury Park, which was not only the namesake of his debut album, but the city whose clubs had served as a finishing school for the young musician and his future bandmates. Based on available information, Springsteen had not played Freehold in the E Street Band era, and he hadn't done a proper concert in Asbury Park since sometime in 1973.
Given the so-called trilogy of recent projects looking back at his life (the book Born to Run, Springsteen on Broadway and Western Stars), one could suggest the November 1996 Shore shows were the first steps in literally revisiting his history.
Armed with that awareness, the first thing Bruce says as he takes the Paramount Theatre stage is, "Greetings, from Asbury Park." We're treated to three tracks from the album: a shambolic "Blinded By the Light," plus lively takes of "Does This Bus Stop at 82nd Street?" and "Growin' Up."
"What the hell was I thinking about when I wrote all that stuff?" he asks with a hearty laugh as he wraps the trio. One likeable hallmark of the Joad tour is an unmistakable streak of humor, darker in tone and language, that seemed to intentionally contrast with a more earnest persona that had become the de facto depiction of our hero.
When someone shouts for "Mary Queen of Arkansas," Bruce's candor is priceless. "No. I ain't gonna be playing that tonight. I tried to play that at home a few nights ago, and I couldn't figure out what it's about."

The top of the show is appealingly loose but turns more meaningful with a distinctive reading of "Independence Day." The song's only tour performance is lightly Joad-ified and resolute, as the protagonist tells the tale with wistful distance and perspective. The 12-string "Darkness on the Edge of Town" is captivating as always, and "Johnny 99" is excellent — it, too, carries a tinge of reflection.
All four Shore shows featured supplemental musicians, and this night showcased the critical contributors: Danny Federici, Patti Scialfa and Soozie Tyrell. Phantom Dan sneaks on stage appropriately in a rare outing for "Wild Billy's Circus Story," while Soozie and Patti bring one of those aforementioned deep cuts to life in an exquisite version of the criminally underplayed "When You're Alone" from Tunnel of Love. The deceptively simple rumination on the loss of love remains as poignant as ever.
Staying in the hidden gems lane, all three contribute to one of Springsteen's songwriting masterpieces, the "Born in the U.S.A." b-side "Shut Out the Light." Introduced as a song he wrote shortly after Nebraska, "Shut Out the Light" pulls another narrative thread on returning Vietnam veterans and the war they brought home with them. Bruce recalls the draft board in Asbury Park in the late '60s and acknowledges his luck in getting out (a story told in greater detail in his autobiography) as he introduces a song about someone who wasn't as lucky.
The homestretch of the set sticks to the established and powerful Joad-tour core, including "Born in the U.S.A.," "The Ghost of Tom Joad," and "Sinaloa Cowboys." But Bruce makes one fascinating and to some degree unlikely inclusion, placing "Racing in the Street" between "The Line" and "Across the Border." Not unlike the earlier performance of "Independence Day," "Racing" carries subtle notes of retrospection and world weariness as it rides Soozie Tyrell's melancholy violin. It's not a long rendition like it would be in the hands of the E Street Band, but composed, potent, and unique to this tour.
Every live version of "Across the Border" and the story which precedes it truly capture the heart of Tom Joad. Bruce movingly recounts seeing John Ford's movie Grapes of Wrath and the moments in the film that so deeply affected him, calling out specific scenes and camera framing with a director's eye and quoting key lines of dialogue that form a sort of outline for the questions Bruce explores on the album and tour.
For the encore, the mood turns upbeat, starting with "Working on the Highway" and continuing with a fine "This Hard Land," again featuring Danny Federici on accordion. Of course Danny returns two songs later as well for Bruce's ultimate boardwalk homage, "4th of July, Asbury Park (Sandy)," introduced with a sweet remembrance of the music scene and players that were there from the beginning. What comes in between is the tour debut of "Rosalita," in a highly uncommon acoustic arrangement that makes up in liveliness what it lacks in musicality.
We end with the powerfully reimagined "The Promised Land." While "Dream Baby Dream" was more of a pure mantra in the same set position on the Devils & Dust tour, "The Promised Land" a la Joad is a hymnal, too. Bruce's acoustic guitar thump serves as the rhythm track propelling a reinterpretation that transports the song from exaltation to something more humanistic.
In the two nights that followed, Springsteen was joined by more guests and debuted a host of other rarities as the tone shifted ever more festive. But at his first show in Asbury Park in more than 30 years, recognition of a return to the place of origin is a compelling presence in nearly every song.
Setlist
Blinded By The Light
Does This Bus Stop At 82nd Street?
Growin' Up
Atlantic City
Independence Day
Straight Time
Darkness On The Edge Of Town
Johnny 99
Mansion On The Hill
Wild Billy's Circus Story
Red Headed Woman
Two Hearts
When You're Alone
Shut Out The Light
Born In The U.S.A.
The Ghost Of Tom Joad
Sinaloa Cowboys
The Line
Racing In The Street
Across The Border 
Working On The Highway
This Hard Land
Rosalita (Come Out Tonight)
4th Of July, Asbury Park (Sandy)
The Promised Land