News Updates
Subscribe to posts
It's finally here. There were a few shows that fans have been asking for ever since the archive series started. One of those has finally been released today which is the second night of the Wrecking Ball tour at Boston's Fenway Park. The show opens with a rare and insanely good "Thunder Road" which features just Bruce and Roy. Then it's time for the summer hits...E Street instantly breaks out into "Hungry Heart" and goes through a summer fever part of the setlist which includes songs like: Sherry Darling, Summertime Blues and ( even a rare) Girls In Their Summer Clothes. One of the highlights of the show was the one-off performance of Eddie Floyd's "Knock on Wood" which absolutely kicked ass with the horns blaring behind Bruce. I'm shocked this was only played once on the tour with the horns. 
This is a fantastic release from my perspective and should be one of my favorites that I will no doubt continue to go back to over and over again. 
Setlist
Thunder Road
Hungry Heart
Sherry Darling
Summertime Blues
Girls In Their Summer Clothes
We Take Care Of Our Own
Two Hearts
Wrecking Ball
Death To My Hometown
My City Of Ruins
Knock On Wood
Does This Bus Stop At 82nd Street?
Thundercrack
Frankie 
Prove It All Night (1978 Intro)
Darkness On The Edge Of Town
Working On The Highway
Shackled And Drawn
Waiting On A Sunny Day
Backstreets
Badlands
Land Of Hope And Dreams
******
Who'll Stop The Rain
Rocky Ground
Born To Run
Detroit Medley
Dancing In The Dark
Quarter To Three
Tenth Avenue Freeze-Out
American Land 
Sorry for the delay! Took a trip to Nashville when this was released on Friday. 
Back to the summer Born in the U.S.A. 1985 tour and this time we're back and rocking at the New Jersey homecoming for E Street. This show came a few nights after Bruce and the band returned home and brought their global success record Born In The U.S.A. tour to Giants Stadium. Surely, you can't get any bigger than this for a homecoming. 
Setlist
Born In The U.S.A.
Badlands
Out In The Street
Johnny 99
Seeds
Atlantic City
The River
I'm Goin' Down
Working On The Highway
Trapped
Glory Days
The Promised Land
My Hometown
Thunder Road
Cover Me
Dancing In The Dark
Hungry Heart
Cadillac Ranch
Downbound Train
I'm On Fire
Pink Cadillac
Bobby Jean
This Land Is Your Land
Born To Run
Two Hearts
Ramrod
Twist & Shout - Do You Love Me
Jersey Girl
Sherry Darling
It's official. Bruce Springsteen will have an official release (likely this fall) of the classic and legendary E Street Band performances over the two night performance from the No Nukes 1979 shows. This morning Sony announced that the rest of the never before seen footage from the shows at Madison Square Garden will be released this fall. Thom Zimny, who has worked a lot with Bruce recently, is going to stitch together the two shows to make a full length Bruce Springsteen movie from the two nights. The release is said to have remixed and remastered audio and will give hardcore fans the first opportunity to see this footage of the rare E Street Band 1979 era. 
Sony is expected to have a full press release in September about the project where we will find out more information and pre-order options.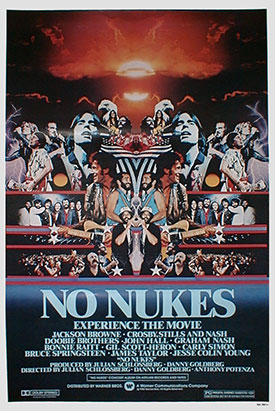 UPDATE: We have to update this news story thanks to some digging by Backstreets Magazine. According to Backstreets, Bruce Springsteen will be a GUEST and not a headliner at the Central Park concert set to take place in August. According to the Backstreets source, Bruce as of now is only expected to be a guest with Patti Smith. If you still are going to the show, have a great time! Just don't expect a major set from Bruce Springsteen. 
---
We posted the strong rumor yesterday
that Bruce Springsteen was going to headline a concert in New York City's Central Park and this morning the mayor confirmed. No official date has been given, but the rumor yesterday that pinned the lineup had the date scheduled for Saturday, August 21. This is likely going to be the date as Springsteen took the night off from his usual Tuesday-Saturday Broadway run of shows. More information is still to come, but mark your calendars for (the likely date of) August 21 if you're in or around New York City. 
Photo: BrooklynVegan
The Darkness tour gets another show stopping punch to the Springsteen archive series. Incredible energy in this release and the earliest Darkness show yet. Arguably the band's greatest tour so although the set isn't all that different...the band is absolutely on fire here. Plus, there is an incredible version of "The Promise" on this release with alternate lyrics. A worthy addition to the archive collection for sure.
Setlist
Badlands
Night
Spirit in the Night
Darkness on the Edge of Town
For You
The Promised Land
Prove It All Night
Racing in the Street
Thunder Road
Jungleland
Paradise by the "C"
Fire
Adam Raised a Cain
Mona - She's the One
Growin' Up
Backstreets
Rosalita 
The Promise
Born to Run
Because the Night
Quarter to Three 
Bruce Springsteen called into E Street Radio this morning to give an update on what he plans to do with his upcoming Broadway run rebirth. Springsteen mentioned at the start of the interview that his manager, Jon Landau, brought this up to him and Bruce was hesitant to do this limited run as he stated, "I knew we were gonna tour with the band next year." One can only assume and figure out that he is of course talking about an E Street Band tour that could be coming as soon as 2022. I'd say the odds of that happening have to be very high (here's hoping). Bruce also mentioned that he does not plan to tweak much of this show as it is "what people are expecting." He did allude to the fact that there may be small changes here and there, but the majority of the show will remain the same. Springsteen went on to say that he also wants to "tighten" up the show and get it back to the roots of when he first took the show to Broadway. 
Another nugget for die-hard Springsteen fans was that Bruce said that he has a project he's been working on that is "slated for release either next year or in the fall." Most fans who have been following the rumor mill will almost certainly peg that "project" as being the next iteration of what has been dubbed "Tracks 2." At some point in the near future, it is expected that a pretty large boxset of lost albums and outtakes will be released to fans and many believe that it will (finally) be this fall after years of rumors. Springsteen elaborated that these won't be "new records, but things fans will really be interested in." Bring it on! By the sounds of it, Bruce has had enough of sitting around and not performing. We have Broadway which starts in a mere 16 days, a new project that is planned to be released in the fall/early next year, and a pretty solid sounding plan for an E Street Tour in 2022. Life's pretty good for a Springsteen fan these days.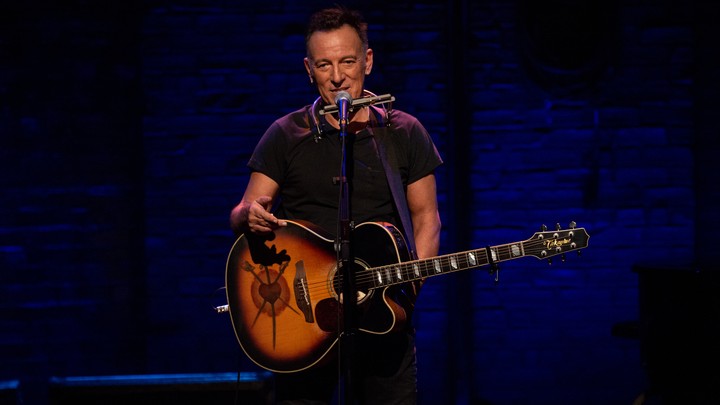 Image: The Atlantic
The Boss is back on stage! For the first time in nearly two years, Bruce Springsteen will return to the stage. Springsteen dropped the surprise announcement that he is bringing back his Broadway performance to the St. James Theater in New York City for a limited run of 30 shows starting on June 26. The St. James Theatre holds about 1,700 seats, about doubled what the previous Walter Kerr Theater held for the original run of Broadway shows. 
All attendees that go to the new summer 2021 performances will have to prove that they have been vaccinated. Tickets will go on sale this Thursday, June 10, at 12:00PM ET through SeatGeek. That's right...don't go to Ticketmaster to try and get tickets. There will be no "fan verification" form to fill out. Head to SeatGeek at the time that the shows go on sale and you'll be placed in a waiting room. Once selected you'll be given an access code to use. Fans can only purchase two tickets for the entire run of shows. 
I think this goes without question that Bruce had the itch to go back out on the stage and perform. This serves as a nice warm up to an eventual E Street 2022 tour, no? Good luck grabbing tickets and see you on Broadway! 
Another show from the Los Angeles five night stand from the 1988 Tunnel of Love tour. Fans will no doubt take the addition, but these shows do not offer great variety. We do get our first listen from the series of "Across The Borderline." Needless to say, we will take a Springsteen and E Street 30 song, 3.5 hour set any day of the week. Fans can purchase the show now at
live.brucespringsteen.net
. 
Setlist
Tunnel of Love
Be True
Adam Raised A Cain
Two Faces
All That Heaven Will Allow 
Seeds
Roulette
Cover Me
Brilliant Disguise
Spare Parts
War
Born In The U.S.A.
Tougher Than The Rest
Ain't Got You - She's The One
You Can Look (But You Better Not Touch)
I'm A Coward
I'm On Fire
One Step Up
Part Man, Part Monkey
Across The Borderline
Dancing In The Dark
Light Of Day
Born To Run
Hungry Heart
Glory Days
Rosalita (Come Out Tonight) 
Have Love, Will Travel
Tenth Avenue Freeze-Out
Sweet Soul Music
Raise Your Hand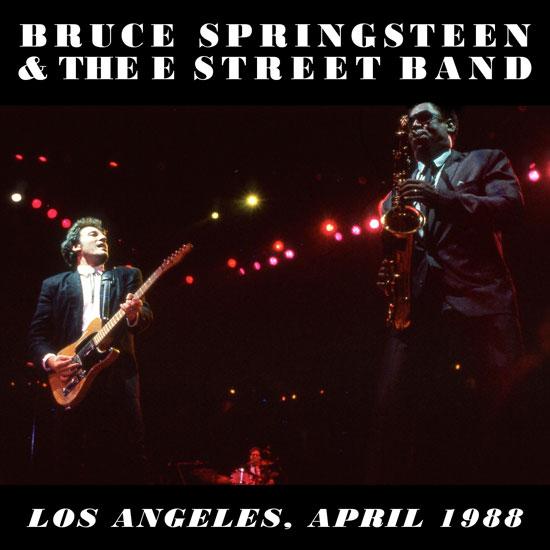 The rumors were swirling and now we know they are true. Bruce Springsteen will indeed be featured in a two minute soliloquy today during the Super Bowl. The advertisement is titled "The Middle" and features Bruce talking about reuniting America and looking forward to road up ahead. There is a beautiful score that was written by Bruce Springsteen and his producer, Ron Aniello, that has a very 
Western Stars
type of vibe. Springsteen worked closely with his well known movie producer Thom Zimny to put this together for Jeep. It's important to note that this is Bruce Springsteen's first ever commercial with a major corporation. Check it out for yourself below or wait to catch it during the big game later this afternoon. 
Here is the script written out: 
There's a chapel in Kansas. 
Standing on the exact center of the lower forty-eight. 
It never closes. 
All are more than welcome. 
To come meet here, in the middle. 
It's no secret… 
The middle has been a hard place to get to lately. 
Between red and blue. 
Between servant and citizen. 
Between our freedom and our fear.
Now, fear has never been the best of who we are. 
And as for freedom, it's not the property of just the fortunate few; it belongs to us all. Whoever you are, 
wherever you're from. 
It's what connects us. 
And we need that connection. We need the middle. 
We just have to remember the very soil we stand on is common ground. 
So we can get there. 
We can make it to the mountaintop, through the desert... 
and we will cross this divide. 
Our light has always found its way through the darkness. 
And there's hope on the road… up ahead.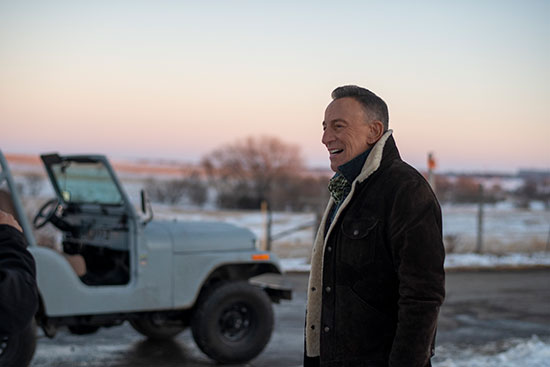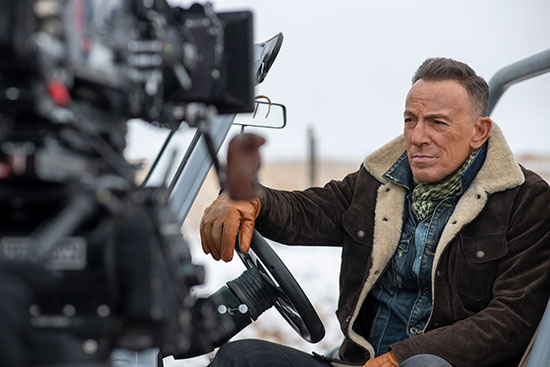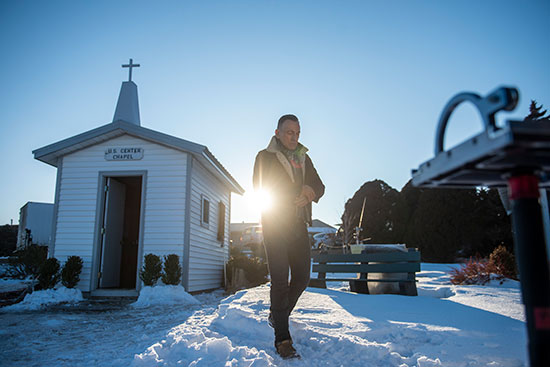 We have a first for the Springsteen archive live show release! For the first time, Springsteen fans are getting their first 1997 show from the later stages of The Ghost Of Tom Joad Tour. Some good additions to add from the tour in the series including an early version of "Long Time Comin" which wouldn't be officially released until 2005's
Devils and Dust
. 
Setlist
The Ghost of Tom Joad
Atlantic City
Straight Time
Highway 29
Darkness on the Edge of Town
Murder Inc
Highway Patrolman
It's Hard to be a Saint in the City
It's the Little Things That Count
Red Headed Woman
Two Hearts
Brothers Under the Bridge
Born in the U.S.A.
Dry Lightning
Long Time Comin'
Sinaloa Cowboys
The Line
Balboa Park
Across the Border
You Can Look (But You Better Not Touch)
Working on the Highway
This Hard Land
Growin' Up
Galveston Bay
The Promised Land