News Updates
Subscribe to posts
The Springsteen archive release returns to The Roxy but this time during the Born To Run tour in 1975. This is for sure a welcome addition to the live archive series and to have this show in this quality is simply amazing. The 14 song set features covers such as "When You Walk In The Room" and "Goin' Back." Check out a sample of "Goin' Back" below and the entire setlist. 
Setlist
Thunder Road
Tenth Avenue Freeze-Out
Spirit In The Night
The E Street Shuffle / Having A Party
When You Walk In The Room
She's The One
Born To Run
4th of July, Asbury Park (Sandy)
Backstreets
Kitty's Back
Jungleland 
Rosalita 
Goin' Back
Carol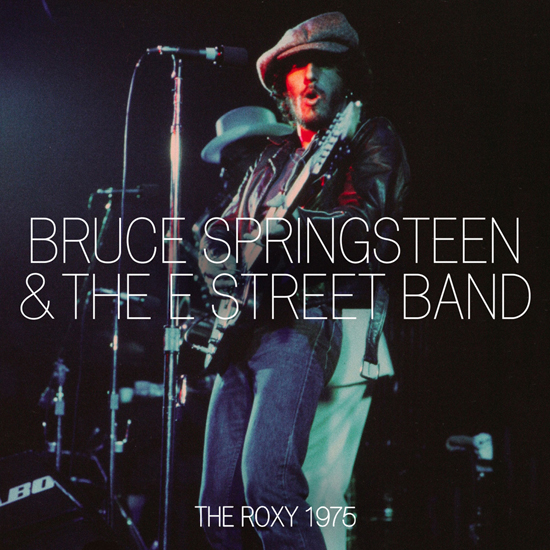 Below is the press release from Light of Day. The 10 day festival features some of great local musicians and some amazing up and coming talent. Bruce Springsteen has been known to drop into the festival in Asbury Park, his last appearance was in 2015. 
LIGHT OF DAY WINTERFEST, the annual marquee event in the world-renowned Light of Day Foundation's global battle to defeat Parkinson's Disease and the Parkinsonisms – ALS and PSP – through the awesome power of music, today announced that the 19th edition of the 10-day fundraising festival will be held in six cities across three states, Jan. 11-21, 2018.
Over 150 acts will be performing at more than 50 shows in New Jersey, New York, and Philadelphia. Light of Day WinterFest is primarily based in Asbury Park, where the action will occur Jan. 13 and Jan. 17-21. The festival will kick off Jan. 11 in Montclair, NJ, followed by Jan. 12 in Philadelphia and for the first time, Jan. 13 in Stony Point, NY and Jan. 15 in Staten Island, NY. WinterFest returns to New York City Jan. 16. A ticket on-sale announcement is forthcoming.
In 2018, Light of Day WinterFest raised over a half million dollars for the fourth straight year, catapulting its 18-year cumulative total past the 5 million mark. Light of Day WinterFest 2019 is expected to push the 19-year total past $5.5 million. The festival has gained international notoriety for surprise performances by Bruce Springsteen in 11 of its 18 years, including his most recent appearance, in 2015.
Light of Day WinterFest
 began as a one-day affair in Asbury Park and is now the culmination of an annual worldwide series of shows. Light of Day Europe, the final event in the series leading up to Light of Day WinterFest each year, is once again preparing to take the Foundation's global initiative overseas in the fight against Parkinson's Disease with a holiday run Nov. 29 in Dublin and ending in Dorphof, Germany (already sold out). Guy Davis, Anthony D'Amato, Joe D'Urso, Jeffrey Gaines, Rock and Roll Hall of Fame former E Street Band drummer Vini "Mad Dog" Lopez, and Rob Dye will be joined by other guest musicians during the three-week trek. Together, they'll perform 17 dates in 11 countries, including multiple cities in England, Switzerland, Italy, Germany, and Sweden, as well as Ireland, Scotland, Liechtenstein, Belgium, and Denmark. 
The Light of Day Foundation regrants money to organizations which fund specific research initiatives, including, the Michael J. Fox Foundation, CurePSP, the Parkinson's Foundation (formerly the Parkinson's Disease Foundation), and the Parkinson's Unity Walk. The Light of Day Foundation also supports "boots on the ground" programs designed to help people with these diseases live better lives on a daily basis, including Joan Dancy & PALS, with a mission to help New Jersey residents in nearby Monmouth and Ocean Counties afflicted with ALS by providing a better quality of life for them and their families.
This fall, the Light of Day Foundation made a $100,000 donation to the Parkinson's Foundation to launch the Come Out In The Light Of Day educational initiative, a pilot program to be tested in New Jersey for patients who are newly diagnosed with Parkinson's, and the first newly diagnosed educational resource program in America, according to Tony Pallagrosi, executive director of the Light of Day Foundation. 
Complete information on all Light of Day activity can be found at www.lightofday.org
and on Facebook.
. Donations to the Light of Day Foundation can be made through the main website as well.
A week after Springsteen announced his live Broadway album, we get our November archive release! This month is a good one and possibly one of the best shows on the Wrecking Ball tour, Leeds 2013. This would be one of the more intimate performances on the Wrecking Ball tour as Springsteen and E Street were opening a brand new arena in the UK. Pair that with an electric E Street performance with some July treats sneaking into the setlist and you have a prime candidate for the archive series. You can hear the official audio of 
Gotta Get A Feeling
below courtesy of NUGS.net. 
My Love Will Not Let You Down
If I Should Fall Behind (Solo)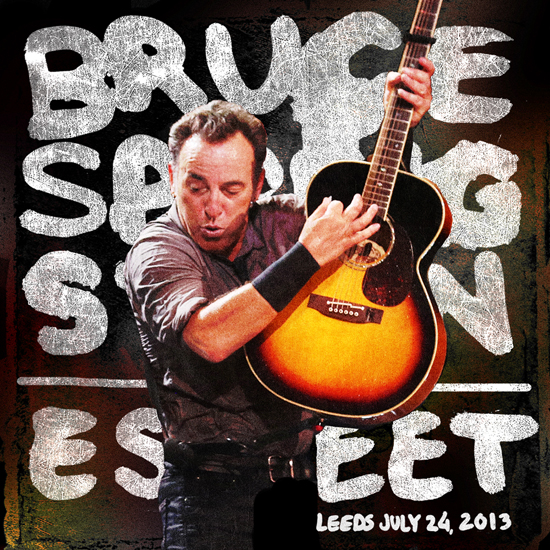 Springsteen on Broadway was previously announced to air on Netflix on December 15 and now we have news that official audio will also be released to the general public. Columbia Records announced today that the Springsteen on Broadway soundtrack album will be released on December 14. The best news, it features both the stories in songs in their entirety on separate tracks. 
The release will come out on 4 LPs and 2 CDs. Of course, streaming services and digital downloads will also be available. You can
pre-order
now and if you do, you get access to "Land of Hope and Dreams" from the Broadway performance. You can also listen to the song preview in the video below. 
Hard Rock and Bruce Springsteen have partnered with WhyHunger to put out some new merchandise while supporting a good cause. Full press release is provided below if you are interested. 
Hard Rock International is partnering with WhyHunger to release the brand's latest limited-edition merchandise line onOct. 2. The Bruce Springsteen Signature Series: Edition 36 collection supports WhyHunger's work to invest in grassroots solutions to hunger and poverty worldwide. The collaboration further reinforces Hard Rock's commitment to its guiding principle – "All is One," and its abiding passion to make the world a safer, healthier and better place to live.
"As a founding member of WhyHunger's Artists Against Hunger & Poverty, Bruce has made a major impact on our efforts to find community-driven solutions to help farmworkers, food banks and more," said Noreen Springstead, executive director, WhyHunger. "We are thrilled to once again have Bruce lend his voice to advocate for social and food justice." 
Hard Rock will donate a portion of the retail price from the sale of Bruce Springsteen Signature Series merchandise to WhyHunger through the Hard Rock Heals Foundation. The limited-time, Signature Series: Edition 36 collection features a pin, hat and tee emblazoned with the song title "Land of Hope & Dreams." The new merchandise is available for purchase online and in Rock Shops at select Hard Rock Cafe, Hotel and Casino properties around the world.
·         Signature Series: Edition 36 Tee – Heather red short-sleeve tee 
with "Land of Hope & Dreams" printed in navy blue across the front and Bruce Springsteen's signature on the sleeve 
($29.50/ £24.95)
·         Signature Series: Edition 36 Hat – Black adjustable hat with 
"Land of Hope & Dreams" embroidered in white across the 
front panel and Bruce Springsteen's signature on the left side
($24.50/£19.95)
·         Signature Series: Edition 36 Pin – Red and navy guitar-shaped
pin with "Land of Hope & Dreams" and Bruce Springsteen's 
signature on the front 
($14/£11.95)
"As part of Hard Rock's 'All is One' motto, we want to do our part to help fight hunger and poverty," said Edward Deutscher, senior vice president of merchandising and eCommerce at Hard Rock International. "We are honored to collaborate with WhyHunger for a second time to create a new Bruce Springsteen Signature Series collection that directly benefits people impacted by hunger and poverty." 
More than 25 years ago, Hard Rock developed the concept of partnering with world-renowned musicians and bands to create imaginative designs that are converted into limited-edition merchandise and sold at Hard Rock properties worldwide. A portion of the retail price from the sale of the merchandise benefits the artist's preferred charity. Music icons including Bruce Springsteen, Pitbull, Rihanna, Imagine Dragons, U2, KISS, Eric Clapton, The Who, Jon Bon Jovi, Linkin Park, Shakira and Ringo Starr have all been part of Hard Rock's Signature Series and Artist Spotlight programs, which have raised millions of dollars for charitable causes worldwide.
Visit www.hardrock.com for additional details on Hard Rock's Signature Series program or www.rockshop.hardrock.com to purchase the new Bruce Springsteen Signature Series: Edition 36 merchandise.
About WhyHunger
Founded in 1975 by the late Harry Chapin and radio DJ Bill Ayres, WhyHunger believes a world without hunger is possible. We provide critical resources to support grassroots movements and fuel community solutions rooted in social, environmental, racial and economic justice. WhyHunger is working to end hunger and advance the human right to nutritious food in the U.S. and around the world. Learn more at whyhunger.org.
Come on up for The Rising! It's finally here Springsteen fans, the long awaited first archive release of The Rising tour. This was the very first Springsteen tour that I attended when I was 12 years old so it's nice to finally have this one. Be sure to check out a video sample of "You're Missing" below. The sound, as with these archive release, is phenomenal. Although the setlist won't set the world on fire, we finally have a show from this tour. 
You can purchase the show by clicking here.
Setlist
Born in The U.S.A.
The Rising
Lonesome Day
No Surrender
Prove It All Night
Darlington County
Empty Sky
You're Missing
Waitin' On A Sunny Day
The Promised Land
World's Apart
Badlands
Out In The Street
Mary's Place
My Hometown
Into The Fire
Thunder Road
Bobby Jean
Ramrod
Born To Run
Seven Nights To Rock
My City Of Ruins
Land Of Hope and Dreams
Dancing In The Dark
Glory Days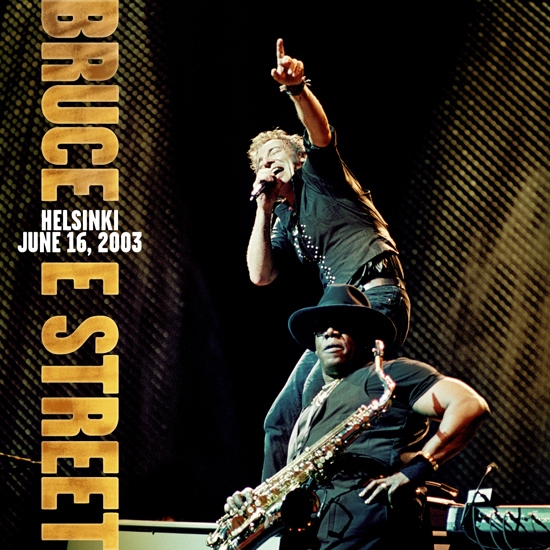 Bruce Springsteen will once again be a headliner for the 12th Stand Up For Heroes benefit. This year's benefit will take place on Monday, November 5 at the Hulu Theater at Madison Square Garden. The Boss typically shows up to play three to four songs with some jokes in-between each song performance. The performance is usually followed by an auction where you can bid on Springsteen's guitar he played that night to having a lasagna dinner made by his mother. Be warned, these auctions go for big bucks so break out those piggy banks. 
Either way, if you're interested in attending, tickets are on sale now at
Ticketmaster
 that range from $256-$5,006. Ticket proceeds go to the Bob Wodruff Foundation which supports veterans, service members, their families and caregivers. The lineup includes: Bruce Springsteen, Jimmy Carr, Eric Church, Jim Gaffigan, Seth Meyers, and Jon Stewart amongst others.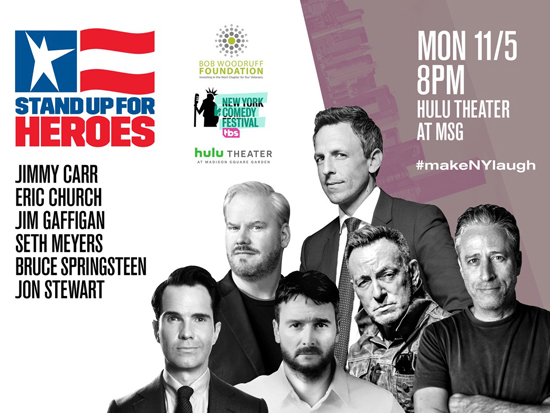 This is a nice surprise! Springsteen's camp released the final Chicago show from September 30, 1999. This is a great release given the great setlist and the sound is absolutely fantastic. Be sure to pick this one up at
live.brucespringsteen.net
! 
Setlist
Take 'Em As They Come
The Ties That Bind
The Promised Land
Adam Raised A Cain
Two Hearts
Atlantic City
Mansion On The Hill
Independence Day
Youngstown
Murder INC
Badlands 
Out In The Street
Tenth Avenue Freeze-Out
Janey Don't You Lose Heart
She's The One
The Ghost Of Tom Joad
New York City Serenade
Light Of Day
Hungry Heart
Bobby Jean
Born To Run
Thunder Road
If I Should Fall Behind
Land Of Hope and Dreams
Ramrod 
It's that time of month again...I know a good amount of people who have been clamoring for a summer '81 show and they now have their wish. Springsteen's London performance from the 1981 tour is the latest monthly archive release.
You can buy this show now by clicking here.
Setlist
Born To Run
Prove It All Night
Out In The Street
Follow That Dream
Darkness On The Edge Of Town
Independence Day
Johnny Bye-Bye
Two Hearts
Who'll Stop The Rain?
The Promised Land
This Land Is Your Land
The River
I Fought The Law
Badlands
Thunder Road
Hungry Heart
You Can Look (But You Better Not Touch)
Cadillac Ranch
Sherry Darling
Jole Blon
Fire
Because The Night
I Wanna Marry You
Point Blank
Candy's Room
Ramrod
Rosalita (Come Out Tonight)
I'm A Rocker
Jungleland
Can't Help Falling in Love
Detroit Medley