News Updates
Subscribe to posts
Bruce Springsteen hit the stage yet again last night in New York City. This time, Bruce was billed as one of the premier performers for the Rainforest Fund's 30th anniversary concert. Other artists that performed included John Mellencamp (who did a couple songs with Bruce), Shaggy, Sting, James Taylor, Ricky Martin, and a handful of others. Springsteen was on stage for four songs last night. Check out the videos below!
Songs Springsteen Performed
Pink Houses (John Mellencamp Song...Performed w/ John Mellencamp)
Glory Days (w/ John Mellencamp)
Dancing In The Dark
Don't Stop Believing (All Musicians On Stage)
Photo: USAToday
Looking to add an epic Springsteen addition to your collection? Charitybuzz may have what you're looking for. Currently up for auction is a reissued 1952 fender telecaster that was donated by The Boss himself. All proceeds benefit WhyHunger that fights hunger and poverty. 
The Boss headlined a private event last night in Asbury Park, NJ's iconic Stone Pony bar. Springsteen performed many of his classic hits for the event that benefit Boston College, which his son previously attended. Chris Jordan of the Asbury Park Press reported that less than 500 were in attendance. E Street Band member and drummer, Max Weinberg, reportedly joined the band for about half the setlist. Check out the setlist some of the videos from the event below! 
Setlist
634-5789 
Seven Nights To Rock
Darlington County
Spirit In The Night
Growin' Up
Because The Night
Two Hearts
Cadillac Ranch
Rendezvous
Boy In New York City
From Small Things (Big Things One Day Come)
I'm On Fire
Waitin' On A Sunny Day
Talk To Me
4th of July, Asbury Park (Sandy)
Tenth Avenue Freeze-Out
Dancing In The Dark
Born To Run
Rosalita
Detroit Medley 
Twist And Shout
Thunder Road (Solo, Guitar)
Marking his first return since the 1970's, Bruce Springsteen comes back to where it all started...Asbury Park, NJ. Here is the official Nugs essay for the show by Erik Flannigan. 
Three decades on, one can underestimate the significance of the Ghost of Tom Joad tour. Fans had been talking about the prospect of a solo acoustic tour since Nebraska, a dream reinforced by the Bridge School appearance in 1986 and the sublime sets Springsteen turned in at the Christic Institute concerts in 1990. (The Bridge and Christic shows are available for download as part of the live archive series.) But it would be another five years for Bruce to go it alone for real, starting his first solo tour in December 1995 and continuing well into 1997.
Not only was he playing on sans band, but he was performing in theaters the size of which he hadn't seen since the Darkness tour. The period is also notable for the debuts of several original songs (e.g. "It's the Little Things That Count" and "There Will Never Be Any Other for Me But You") in a set that grew more exploratory in assaying Bruce's back catalog as the tour carried on.
Then came a series of remarkable hometown bookings. In November 1996, Bruce played his old high school, St. Rose of Lima, in Freehold, NJ (also available in the live download series). Later that month, a three-show stand at the Paramount Theatre in Asbury Park, which was not only the namesake of his debut album, but the city whose clubs had served as a finishing school for the young musician and his future bandmates. Based on available information, Springsteen had not played Freehold in the E Street Band era, and he hadn't done a proper concert in Asbury Park since sometime in 1973.
Given the so-called trilogy of recent projects looking back at his life (the book Born to Run, Springsteen on Broadway and Western Stars), one could suggest the November 1996 Shore shows were the first steps in literally revisiting his history.
Armed with that awareness, the first thing Bruce says as he takes the Paramount Theatre stage is, "Greetings, from Asbury Park." We're treated to three tracks from the album: a shambolic "Blinded By the Light," plus lively takes of "Does This Bus Stop at 82nd Street?" and "Growin' Up."
"What the hell was I thinking about when I wrote all that stuff?" he asks with a hearty laugh as he wraps the trio. One likeable hallmark of the Joad tour is an unmistakable streak of humor, darker in tone and language, that seemed to intentionally contrast with a more earnest persona that had become the de facto depiction of our hero.
When someone shouts for "Mary Queen of Arkansas," Bruce's candor is priceless. "No. I ain't gonna be playing that tonight. I tried to play that at home a few nights ago, and I couldn't figure out what it's about."

The top of the show is appealingly loose but turns more meaningful with a distinctive reading of "Independence Day." The song's only tour performance is lightly Joad-ified and resolute, as the protagonist tells the tale with wistful distance and perspective. The 12-string "Darkness on the Edge of Town" is captivating as always, and "Johnny 99" is excellent — it, too, carries a tinge of reflection.
All four Shore shows featured supplemental musicians, and this night showcased the critical contributors: Danny Federici, Patti Scialfa and Soozie Tyrell. Phantom Dan sneaks on stage appropriately in a rare outing for "Wild Billy's Circus Story," while Soozie and Patti bring one of those aforementioned deep cuts to life in an exquisite version of the criminally underplayed "When You're Alone" from Tunnel of Love. The deceptively simple rumination on the loss of love remains as poignant as ever.
Staying in the hidden gems lane, all three contribute to one of Springsteen's songwriting masterpieces, the "Born in the U.S.A." b-side "Shut Out the Light." Introduced as a song he wrote shortly after Nebraska, "Shut Out the Light" pulls another narrative thread on returning Vietnam veterans and the war they brought home with them. Bruce recalls the draft board in Asbury Park in the late '60s and acknowledges his luck in getting out (a story told in greater detail in his autobiography) as he introduces a song about someone who wasn't as lucky.
The homestretch of the set sticks to the established and powerful Joad-tour core, including "Born in the U.S.A.," "The Ghost of Tom Joad," and "Sinaloa Cowboys." But Bruce makes one fascinating and to some degree unlikely inclusion, placing "Racing in the Street" between "The Line" and "Across the Border." Not unlike the earlier performance of "Independence Day," "Racing" carries subtle notes of retrospection and world weariness as it rides Soozie Tyrell's melancholy violin. It's not a long rendition like it would be in the hands of the E Street Band, but composed, potent, and unique to this tour.
Every live version of "Across the Border" and the story which precedes it truly capture the heart of Tom Joad. Bruce movingly recounts seeing John Ford's movie Grapes of Wrath and the moments in the film that so deeply affected him, calling out specific scenes and camera framing with a director's eye and quoting key lines of dialogue that form a sort of outline for the questions Bruce explores on the album and tour.
For the encore, the mood turns upbeat, starting with "Working on the Highway" and continuing with a fine "This Hard Land," again featuring Danny Federici on accordion. Of course Danny returns two songs later as well for Bruce's ultimate boardwalk homage, "4th of July, Asbury Park (Sandy)," introduced with a sweet remembrance of the music scene and players that were there from the beginning. What comes in between is the tour debut of "Rosalita," in a highly uncommon acoustic arrangement that makes up in liveliness what it lacks in musicality.
We end with the powerfully reimagined "The Promised Land." While "Dream Baby Dream" was more of a pure mantra in the same set position on the Devils & Dust tour, "The Promised Land" a la Joad is a hymnal, too. Bruce's acoustic guitar thump serves as the rhythm track propelling a reinterpretation that transports the song from exaltation to something more humanistic.
In the two nights that followed, Springsteen was joined by more guests and debuted a host of other rarities as the tone shifted ever more festive. But at his first show in Asbury Park in more than 30 years, recognition of a return to the place of origin is a compelling presence in nearly every song.
Setlist
Blinded By The Light
Does This Bus Stop At 82nd Street?
Growin' Up
Atlantic City
Independence Day
Straight Time
Darkness On The Edge Of Town
Johnny 99
Mansion On The Hill
Wild Billy's Circus Story
Red Headed Woman
Two Hearts
When You're Alone
Shut Out The Light
Born In The U.S.A.
The Ghost Of Tom Joad
Sinaloa Cowboys
The Line
Racing In The Street
Across The Border 
Working On The Highway
This Hard Land
Rosalita (Come Out Tonight)
4th Of July, Asbury Park (Sandy)
The Promised Land
In a very unusual glimpse into Bruce Springsteen's future plans, The Boss is spilling the beans on his immediate plans in terms of both recording with the E Street Band and touring next year. Bruce Springsteen is currently over in London promoting his Western Stars film. We have heard Bruce say that he wants to be on the road with the E Street Band sooner rather than later but last night at the London Film Festival, Springsteen all but confirmed a tour is in the near future.
Springsteen was asked if he would get back in the directors chair, here was his response: "I think all these things I've been doing lately are one-offs. I'm not going to write another book, do another play or make another movie. I will, however, be touring with the E Street Band. That always comes around, you can rely on it." 
Springsteen fans can likely expect a very large E Street Band tour coming in 2020. Bruce has been dropping this line over the past few months so I think it's safe to say he has an itch to get back out on the road.
But what will Bruce tour behind?
We heard back in May that The Boss has written a bunch of new material for the E Street Band to record
, the only questions that remained were: 1) did the album get finished? 2) when would they record this new album? It appears we may have gotten our answer. Springsteen also appeared on the Grham Norton Show to promote Western Stars. Rumor has it...Springsteen said that the E Street Band would start recording the new album in November. This part was not shown during the airing of the show but a few people who were in the audience claim that The Boss made that statement. An all-new E Street Band recording being recorded in November and Springsteen continuously talking about touring with them. Sounds like a great time to be a Boss fan. 
Photo: Billboard
If you pre-ordered "Western Stars: Songs From The Film," you noticed that "Sundown" was released as a single from the live performance of the album today. The song is now available for purchase or via streaming services such as Amazon, Spotify, and iTunes. In addition to the song being released, Springsteen also uploaded the full song on his YouTube page with the live performance from the upcoming film (watch below). 
Producer of the album, Ron Aniello, stated that this was recorded at Bruce's farm in New Jersey this past April. I must say, Springsteen sounds fantastic on this release and his big backing band sounds incredible. Just makes you think what could have been if they went out on the road and toured behind his Western Stars release. At least Springsteen fans get a taste of what could have been with the release of the film which is coming out in theaters later this month across the globe. 
We had a feeling this would happen since Bruce said he's not touring behind his latest record, 
Western Stars.
The full live performance of the album will be released on October 25. Springsteen performed the latest album in full this past April at his Colts Neck, NJ barn to be showcased in the upcoming film. In addition to all thirteen tracks being performed live, Springsteen also includes a rendition of Glen Campbell's "Rhinestone Cowboy," which will conclude the soundtrack release. 
Bruce Springsteen: Vocals, Acoustic Guitar 
Patti Scialfa: Acoustic Guitar, Vocals, Vocal Arrangements 
Rob Mathes: Keyboards, Piano 
Charlie Giordano: Piano, Organ, Accordion 
Marc Muller: Pedal Steel, Electric Guitar, Banjo, Acoustic Guitar 
Gunnar Olsen: Drums 
Ben Butler: Electric Guitar, Banjo 
Kaveh Rastegar: Bass Guitar 
Henry Hey: Keyboards 
Violins: Joanna Maurer (Concertmaster), Monica Davis, Maggie Gould, Joyce Hamman, Elizabeth Lim-Dutton, Laura Lutze, Annaliesa Place, Emma Sutton, and Robin Zeh 
Violas: Maurycy Banaszek, Will Frampton, and Celia Hatton 
Cellos: Andrew Janss, Maureen McDermott, and Alan Stepansky 
French Horns: Rachel Drehmann and Zohar Schondorf 
Trumpets: Barry Danielian and Curt Ramm 
Background Vocals: Patti Scialfa, Soozie Tyrell, Lisa Lowell, Vaneese Thomas, and Surrenity XYZ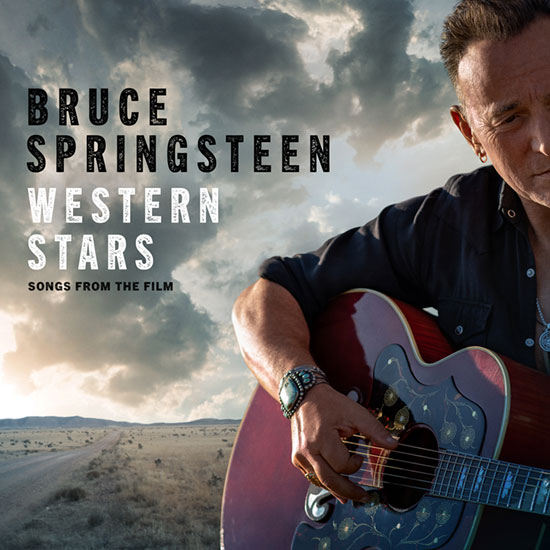 It's no secret that Bruce Springsteen has changed millions of lives all around the world during his legendary career. Today, that legend turns a new page in his book as he turns 70. Below you will find some links paying tribute to The Boss on his milestone birthday. Thank you for everything, Bruce. 
"The Boss comes home!" The popular 1978 Springsteen bootleg makes it's official appearance in the live archive series. These were Springsteen's first shows in New Jersey in nearly two years so it was for sure a storm for an incredible performance...and E Street did not disappoint. The live archive mixer, Jon Altschiler, does an incredible job making this performance sound crisp and clean as if you were sitting in the audience listening closely by the speakers. Check out the audio sample of "Meeting Across The River" below! 
Setlist
Badlands
Streets Of Fire
Spirit In The Night
Darkness On The Edge Of Town
Independence Day
The Promised Land
Prove It All Night
Racing In The Street
Thunder Road
Meeting Across The River
Jungleland
Kitty's Back
Fire
Candy's Room
Because The Night
Point Blank
Not Fade Away - She's The One
Backstreets
Rosalita 
4th of July, Asbury Park (Sandy)
Born To Run
Tenth Avenue Freeze-Out
Detroit Medley
Raise Your Hand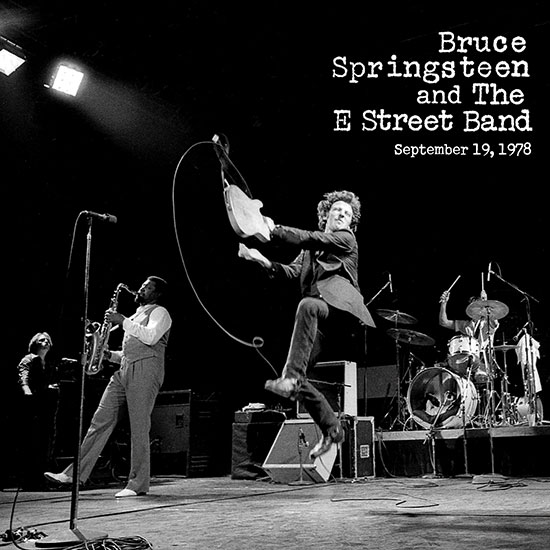 Bruce Springsteen announced the other day that the Western Stars film was coming out in October and if you saw Blinded By The Light this past weekend you were treated to a first look at the trailer. Well, today we all got to see the trailer and I must say...take my money. Now. Please. What a release this is going to be. Watch it now below. 
Photo: Rolling Stone