News Updates
Subscribe to posts
Need to stock up on your Springsteen live collection? Good news. Nugs.net is holding a Black Friday sale which saves you 50% on all Springsteen live downloads and also saves you 25% on all CD orders. This discount applies to all the shows that are currently in the Springsteen archive which range from 1975 to the recent 2017 summer tour down under. Take advantage of this great opportunity as this sale does not pop up all that often! 
Photo: NewsOK
We're heading back to the Tunnel of Love tour for the next Springsteen archive release. However, this will be the first Tunnel of Love archive release mixed by John Altschiller, which should be a pretty nice upgrade compared to the previous 1988 release. You can purchase the new show by visiting the 
live.brucespringsteen.net
 store now. 
Setlist
Tunnel of Love
Boom Boom
Adam Raised a Cain
The River
All That Heaven Will Allow
Seeds 
Roulette
Cover Me
Brilliant Disguise 
Tougher Than The Rest
Spare Parts
War
Born In The U.S.A.
Chimes Of Freedom
Paradise By The "C"
Who Do You Love?
She's The One
You Can Look (But You Better Not Touch)
I'm a Coward
I'm on Fire
Downbound Train
Because the Night
Dancing in the Dark
Light of Day
Born to Run
Hungry Heart
Glory Days
Can't Help Falling In Love
Bobby Jean
Cadillac Ranch
Tenth Avenue Freeze-Out
Sweet Soul Music
Raise Your Hand
Quarter to Three
Twist and Shout
A new Broadway show coming in the summer of 2018, 
Gettin' The Band Back Together
, is giving away two FREE Springsteen on Broadway tickets. No purchase is necessary to enter to win the tickets. A very nice giveaway for Springsteen fans and we hope that someone reading this right now can win, so go and enter now by
clicking here
. While you're at, be sure to check out the upcoming Broadway show 
Gettin' The Bank Back Together
. The contest runs through November 2, 2017. Good luck to all who enter! 
Photo: Rob DeMartin
It's the first Friday in October and that means we get a new Springsteen live archive release! This time the Reunion tour gets the proper treatment and none other than the final show of the tour at the legendary Madison Square Garden in New York City. Some highlights from this show include an incredible version and show closer of "Blood Brothers" as well as an early debut of "Further On (Up The Road)" which of course would appear on Springsteen's next album at the time,
The Rising
. Based on the samples that are on
live.brucespringsteen.net
, the show sounds great as usual. This makes for a pretty decent release but I'm personally still craving a Rising tour show in this quality. Maybe in November. In the meantime, enjoy Springsteen fans. 
The Boss announced last month that he would be performing at the Invictus Games and he did not disappoint those in attendance. Springsteen treated the crowd to three acoustic songs of: Working on the Highway, The Promised Land, and Dancing in the Dark. However, Springsteen was not done with those three acoustic performances. The Boss would shortly thereafter join Bryan Adams to perform another two songs. One of those being Adams' "Cuts Like a Knife." Bryan Adams then announced that he and Springsteen talked before the show and that since Springsteen played one of his songs, that Adams would then play one of Bruce's. To everyone's surprise, Springsteen did his famous "one, two" and then the pounding of "Badlands" started. Pretty cool moment to see, these two rock icons performing each other's songs. Miss the performances? No problem, you can 
check out the full Invictus event by clicking here. 
Springsteen's acoustic performances take place at the 52:04 mark in the video. The Bryan Adams and Bruce Springsteen performance takes place at the 1:23:00. 
Springsteen Acoustic: 
Working On The Highway
The Promised Land
Dancing in the Dark
Springsteen w/ Bryan Adams:
Cuts Like A Knife
Badlands 
Photo: Reuters 
Did you get shut out of Springsteen on Broadway tickets or not want to pay $850? There is hope that you can still snag tickets. 26 tickets to each Springsteen performance will be released via 
this online lottery
. The best part for those budget conscious people, the tickets are only $75 a piece. Luckyseat will be notifying winners via text or e-mail the day before the show they select (you can select all shows being performed the following week). If you want the chance to snag these $75 tickets for next week's show, make sure you sign up by October 2. Again, if you are chosen, you will be notified the day before the show that you were selected to attend. Good luck to all Springsteen fans who try!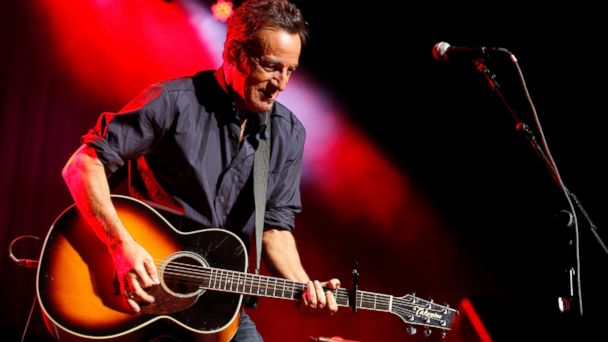 Photo: ABC News
Last night, Bruce Springsteen was a surprise guest at the LaidBack Festival which took place in Holmdel, NJ. With a lineup that included acts such as: Little Steven, Jackson Browne, Peter Wolff, etc. there was a pretty good chance The Boss would show up and sure enough he did. Springsteen first joined Little Steven for "It's Been A Long Time" and then The Disciples of Soul jumped right into Springsteen's own "Tenth Avenue Freeze-Out." The Boss wasn't done just yet, as he made another appearance with Jackson Browne with performances of "Take It Easy" and "Our Lady of The Well." Check out the videos below! 
I know some fans will try to not see what Springsteen will play on Broadway but I also know that a lot of fans want to know as soon as possible! This article is for those folks. User WillHoffmann over on BTX (fan forum) has posted the rehearsal setlist for Springsteen's upcoming run on Broadway. Springsteen performed a rehearsal at Monmouth University this past Tuesday and this is apparently the setlist that was played: 
Growin' Up
My Hometown
Born In The U.S.A.
Thunder Road
Brilliant Disguise 
The Wish
My Father's House
Born To Run
Land of Hope and Dreams
Tougher Than The Rest
The Promised Land 
Keep in mind that Springsteen will apparently be reading from his memoir, Born To Run, and telling stories in between the songs performed. But hopefully that gives you an idea if you wanted to know. Only a few more short weeks until this show officially hits Broadway. 
UPDATE: Other setlist reports have come out. Bruce has reportedly held a few rehearsals and has apparently played the following. See below:
Growin' Up
My Hometown
My Father's House
The Wish
Thunder Road
The Promised Land
Born In The U.S.A.
Tenth Avenue Freeze-Out
Tougher Than The Rest (w/ Patti)
Brilliant Disguise (w/ Patti)
The Ghost Of Tom Joad
Long Walk Home 
The Rising
Dancing in the Dark
Land of Hope and Dreams
Born To Run
Photo: The Inquistir
The Boss is doing something pretty admirable. Springsteen is releasing the Houston 1978 show to benefit the Americans effected by Hurricane's Harvey and Irene. This is the first time that we have just the audio released however, this show was already presented in the Darkness Box Set back in 2010 in DVD/Blu-Ray format. NUGS suggested that since this was already mixed, it would be released as an audio file to help those effected by the hurricanes. A nice gesture from Springsteen and his team. All proceeds from the release will go to the MusiCares Hurricane Relief Fund. You can purchase the show by going to
live.brucespringsteen.net
. 
Bruce Springsteen jumped up on stage with Sir Paul McCartney last night in New York City. Springsteen and Steve Van Zandt (E Street Band member) were spotted in the crowd enjoying the show when they hopped on up to perform "I Saw Her Standing There" with McCartney. Check out the video below. No plug was pulled this time around...
Photo: Paul McCartney Social Media